Most diverse food cities in the world
Since every person has to eat to survive, food is one of the few things that truly unites all humans. Food can also serve as an edible passport, allowing anyone to experience a culture just by eating a specific dish. While small towns in rural areas may not see much demand for diversity in their restaurants, major cities often have more restaurants catering to a wide variety of tastes because they have much larger populations from various parts of the world. One of the great things about the most cosmopolitan cities across the globe is that they allow people to eat dishes from almost every continent without stepping on an airplane. From Indian-inspired tacos and sushi in Bangkok to Uzbek dumplings in New York, international food fans can please their palates regularly by exploring the incredibly vast array of choices in the most diverse food cities in the world.
Diverse food cities aren't just about pleasing their residents. They're also a big draw for food lovers looking for their next vacation destination. In 2017, 22 million Americans reported that they were planning on taking a culinary-focused vacation. In Las Vegas alone, award-winning chefs from all over the world have opened restaurants that span from French to Greek to Mexican-Chinese hybrids to appeal to the millions of tourists from all over the world that come to the city each year.
To identify the most diverse food cities in the world, Stacker used restaurant data from British solicitors Bott + Co for all major cities with populations of at least 1 million residents. Specific national cuisines were identified using one or more restaurants listed in Google Maps, with the number of unique national cuisines compiled to form a number representing each city's international culinary diversity. The data was last updated in 2018 and ranked in order of the total number of clearly identifiable national cuisines represented in each city.
Read on to discover which family-friendly city in Florida cracked the top 40 and which two European capitals made it to the top five.
You may also like: Easiest metros for starting a food truck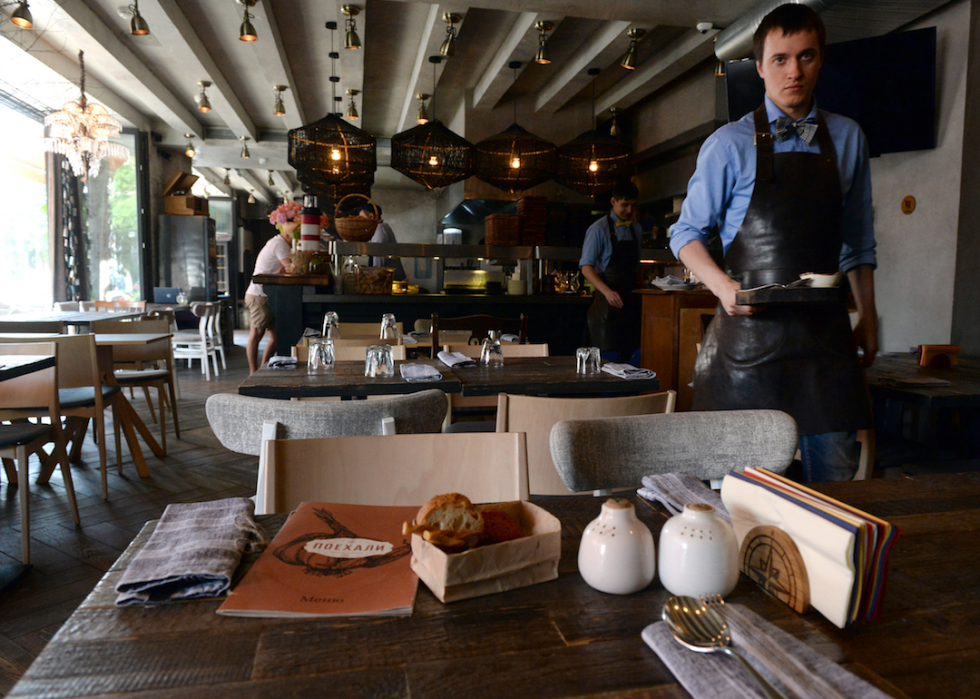 #50. Moscow
National cuisines: 34
While many of Moscow's most famous restaurants serve inventive Russian cuisine, the city is also home to cuisines representing 34 different nations. Russian food alone draws on influences from northern and easern Europe, Siberia, and eastern and central Asia; throughout Moscow, you can find evidence of Europe's strong influence on the cuisine. But there are also several restaurants featuring African countries such as Morocco and Ethiopia.
[Pictured: Poyekhali (Let's Go) features traditional Russian cuisine and local delicacies.]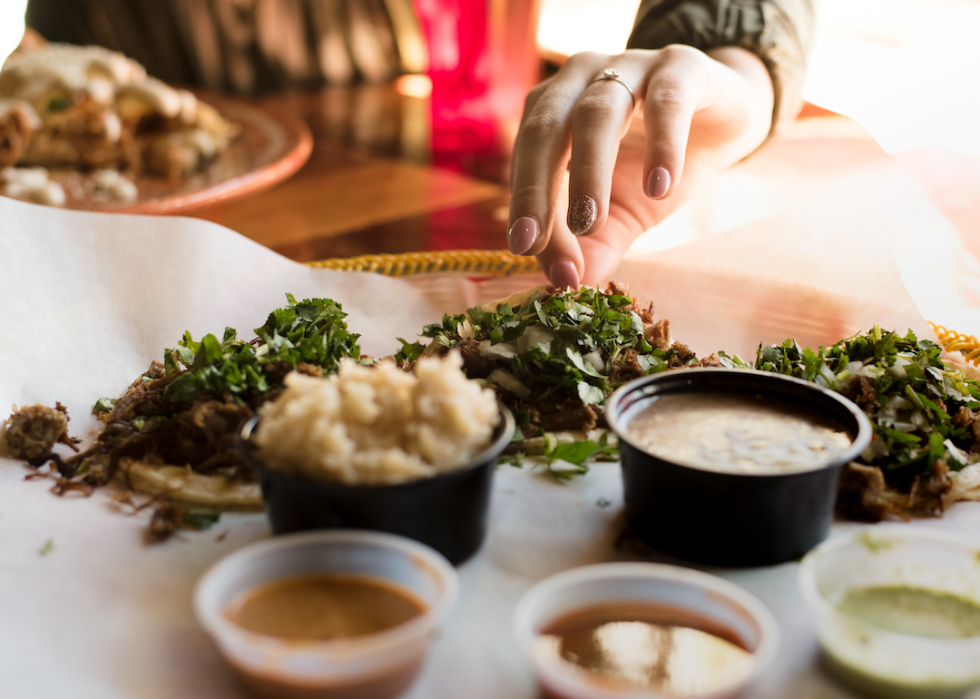 #48. Phoenix (tie)
National cuisines: 37
Phoenix may not be at the top of the list for international travelers, but the restaurant scene takes on a global flavor. The more popular continental cuisines are available (French, Italian, Spanish), but Phoenicians can also indulge in Cambodian, Afghani, Iraqi, and Bosnian menus.
[Pictured: Mexican food at La Santisima ]
3 / 50
ChameleonsEye // Shutterstock
#48. Auckland (tie)
National cuisines: 37
With 37 national cuisines, New Zealanders can be proud that their culinary landscape spreads far beyond the shire. Asian cuisines are highly represented here, as well as one of the few Fijian restaurants to be recognized on this list—likely due to the Auckland's proximity to the island nation.
[Pictured: Elliott Stables is a venue that features multiple international restaurants.]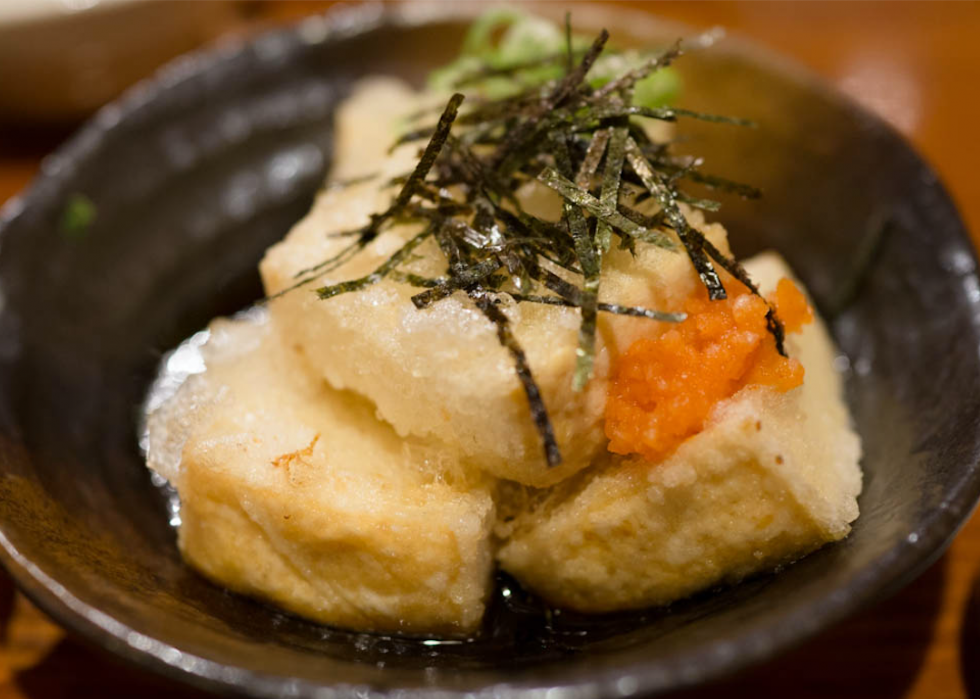 #44. Brisbane (tie)
National cuisines: 40
Stephanie Gravalesestephanitaeats
Australia's third-largest city by population has one of the biggest mixes of Asian cuisines with 18 different Asian nations represented including large countries like China and Japan as well as foods from places with internationally lesser-known cuisines such as Nepal and Sri Lanka. Brisbane also has a diverse African restaurant scene where a Sudanese restaurant makes its first appearance on this list.
[Pictured: Agedashi tofu from Japanese restaurant Sono Sushi.]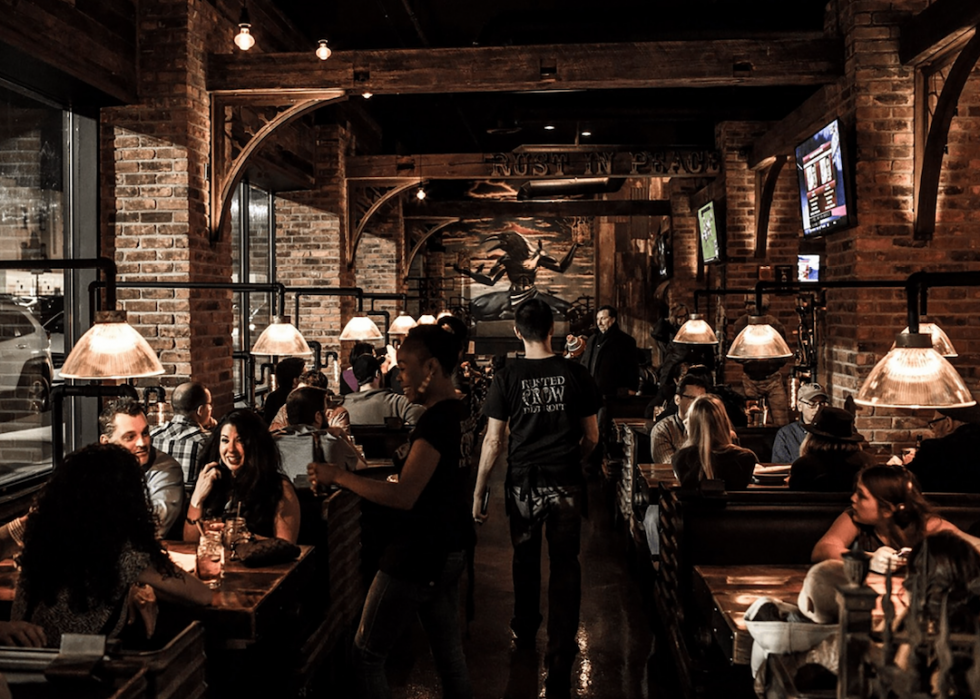 5 / 50
Unsplash
#44. Detroit (tie)
National cuisines: 40
The Motor City has a wide swath of choices for Detroiters looking for North American foods, but there is a surprising lack of South American choices. The city is well known for its diverse Middle Eastern population, and Detroit's restaurants reflect that with a large group of options serving Iraqi, Lebanese, Syrian, and Yemeni dishes.
[Pictured: Diners at The Rusted Crow.]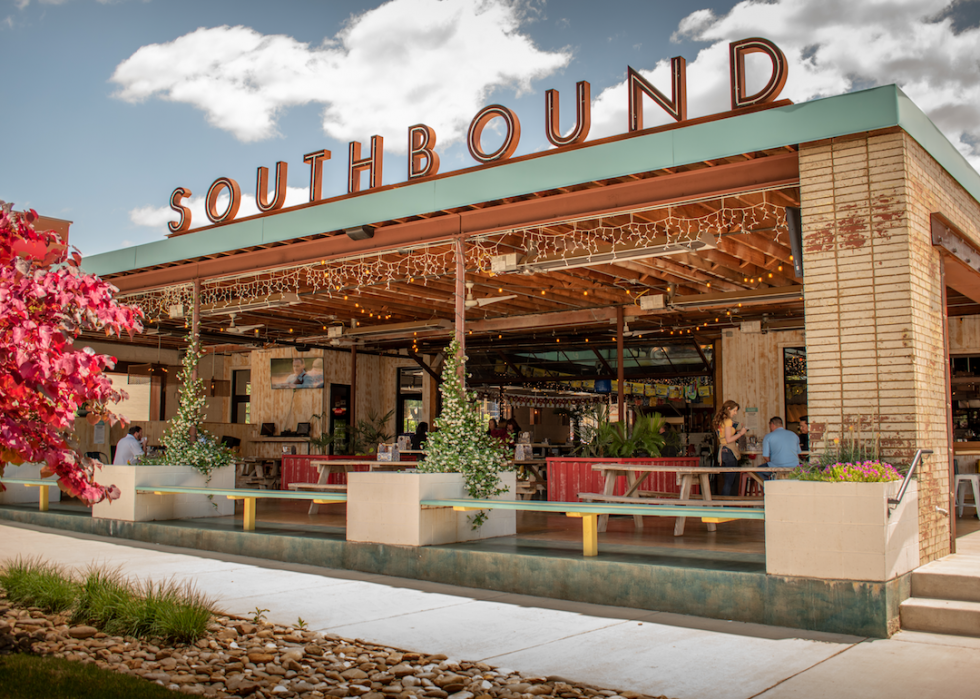 6 / 50
Bruce VanLoon // Shutterstock
#44. Charlotte (tie)
National cuisines: 40
North Carolina's restaurant collection is well balanced in terms of the 40 cuisines that are on offer here. The islands of Central America are well represented, and anyone craving Somalian food can visit the highly rated (and simply named) Somali Restaurant.
[Pictured: SouthBound serves up Mexican food.]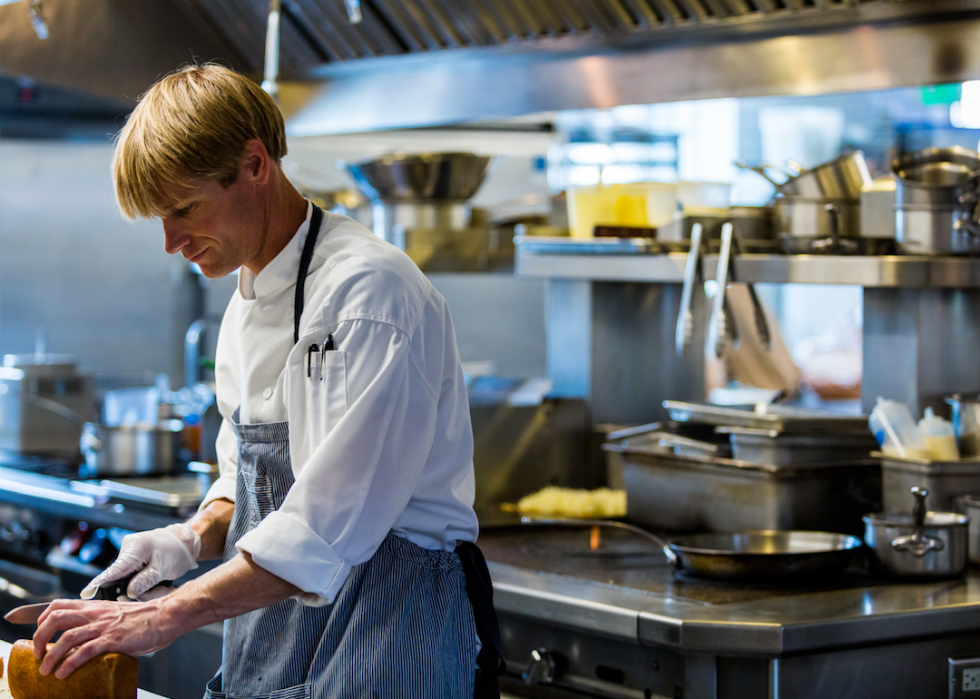 #44. Denver (tie)
National cuisines: 40
The most popular continent in Denver's 40 national cuisines is Asia, which accounts for nearly 40% of the entire list. While Brazilian and Mongolian both made the list, the restaurants that represent those cultures (Fogo de Chao and bd's Mongolian Grill) are both chain restaurants that have locations all over the U.S.
[Pictured: A chef at work in Denver's Mercantile.]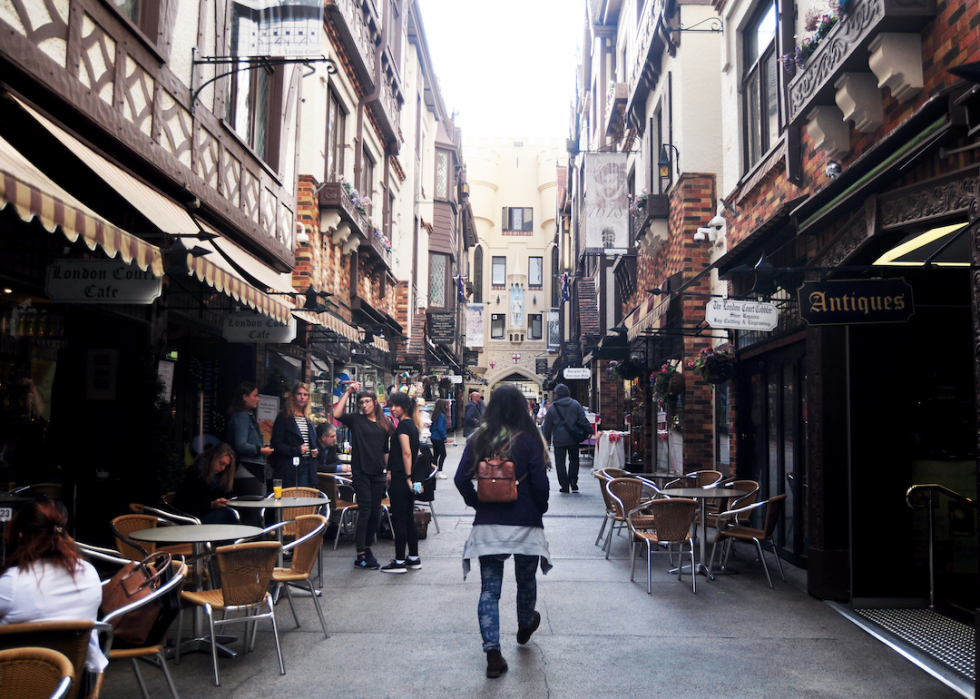 8 / 50
Anirut Thailand // Shutterstock
#40. Perth (tie)
National cuisines: 42
The capital of Western Australia is light on South American restaurant influence, but more than makes up for it with 20 Asian cuisines—the latter accounts for nearly half of all international cuisines in the city. In addition to the usual Asian cuisines that are seen in many cities on this list (Chinese, Korean, Japanese), several interesting additions here come from restaurants hailing from Bhutan and Myanmar (formerly Burma).
[Pictured: Perth's Hay Street pedestrian mall]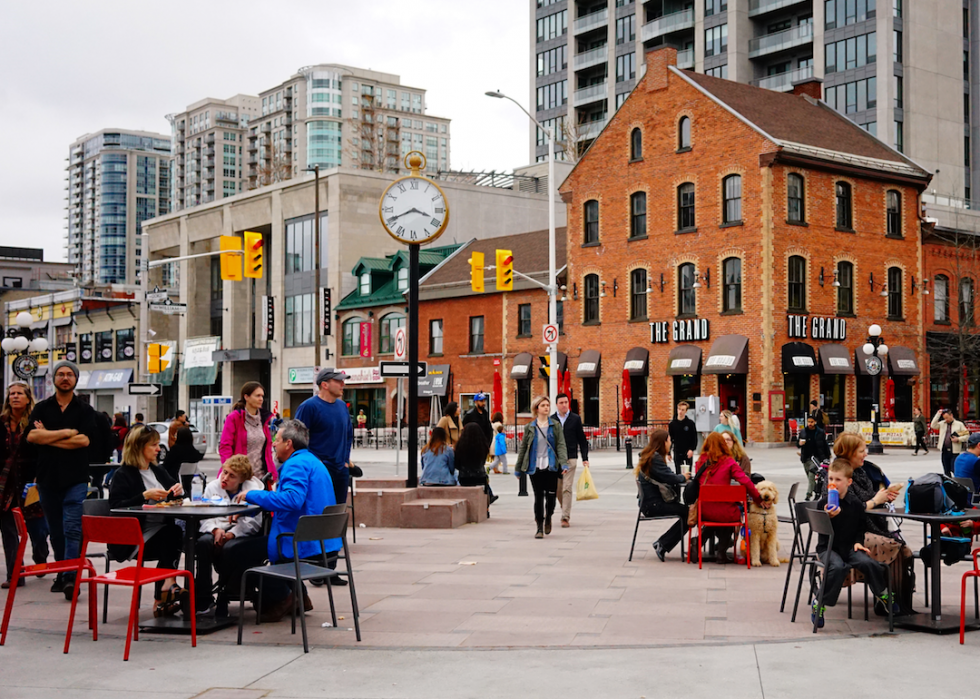 #40. Ottawa (tie)
National cuisines: 42
Canada's capital has six different African cuisines, but only one from South America. The Soca Kitchen serves Venezuelan food and stands as Ottawa's lone South American food option. Nearby Montréal offers a good cross-section of South American options.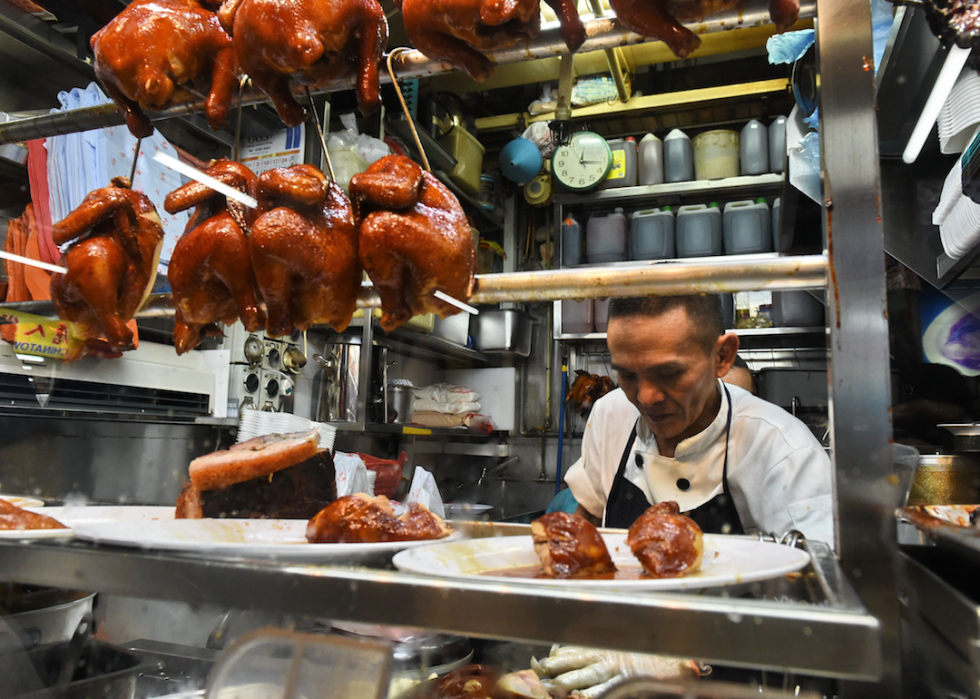 10 / 50
ROSLAN RAHMAN/AFP // Getty Images
#40. Singapore (tie)
National cuisines: 42
This food-loving island city-state only has 5.6 million people, but they have 42 different cuisines to choose from. As one may expect, Asian cuisines are most heavily represented here with a full 50% of the total list, but European food fans can also get their fill with options ranging from Swiss to Armenian.
[Pictured: Chef Chan Hon Meng prepares meals at his Hong Kong Soya Sauce Chicken Rice and Noodle stall which received a Michelin star.]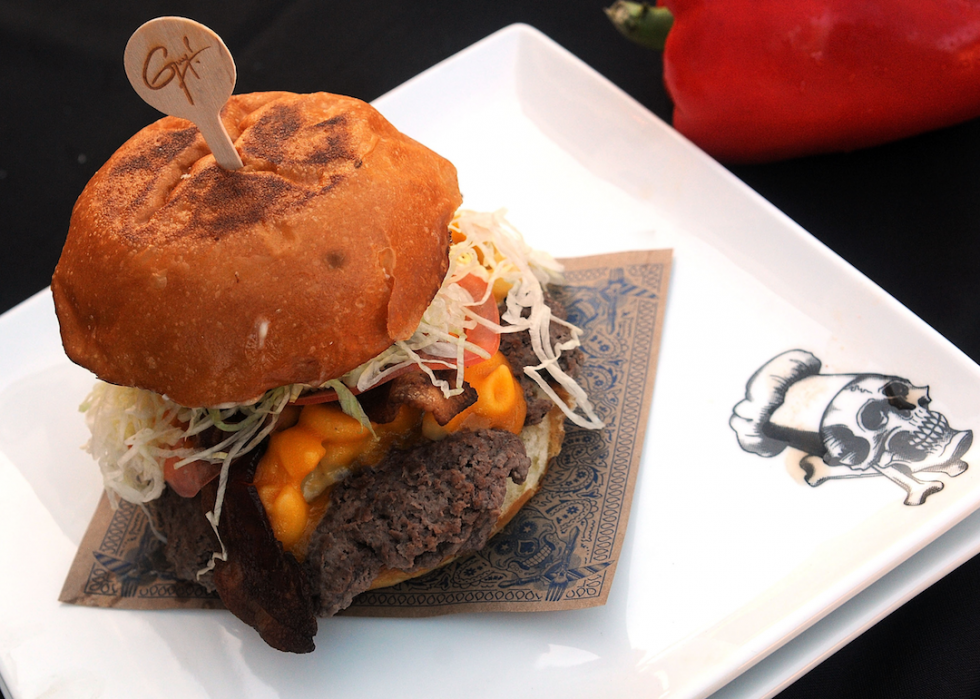 11 / 50
Gerardo Mora // Getty Images for Planet Hollywood Observatory
#40. Orlando (tie)
National cuisines: 42
Diversity has long been a part of Orlando, Fla., thanks to Disney's Epcot Center. While Epcot throws its own international food and wine festival, residents and visitors to the greater Orlando area can enjoy a huge variety of global favorites with a heavy emphasis on the cuisine of island nations near Florida like Jamaica, the Dominican Republic, and Haiti.
[Pictured: Celebrity Chef Guy Fieri signs off on a new burger at Planet Hollywood Observatory.]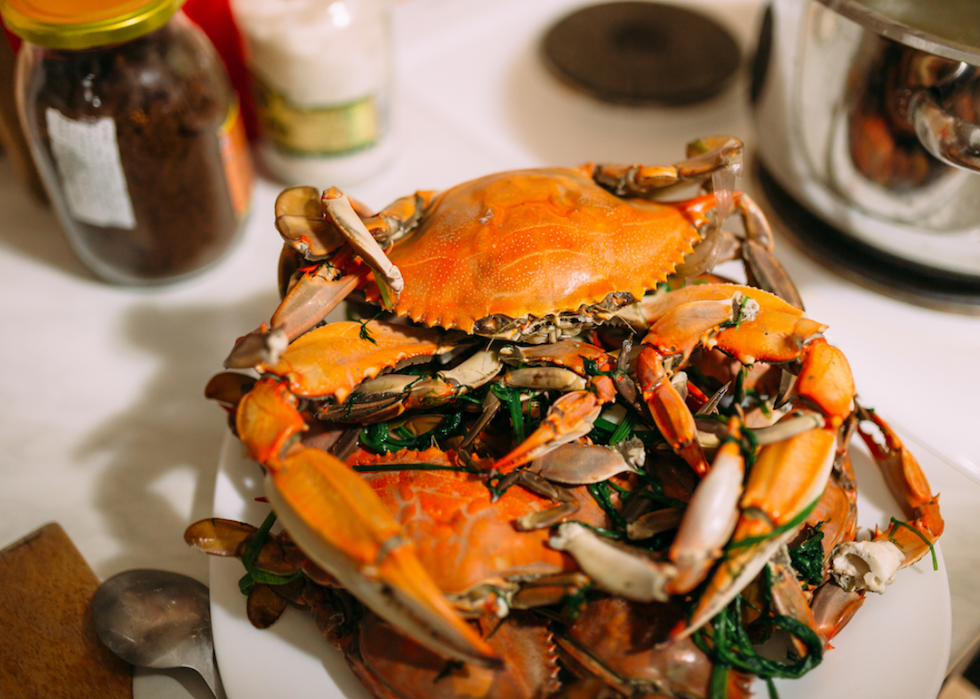 12 / 50
nadtochiy // Shutterstock
#34. Baltimore (tie)
National cuisines: 43
As an American harbor city, Baltimore, Md., is best known for its fresh crabs, but there's also a good variety of international cuisines here. While there are no restaurants from the Australasian section of the map, both Asian and European influences are strong.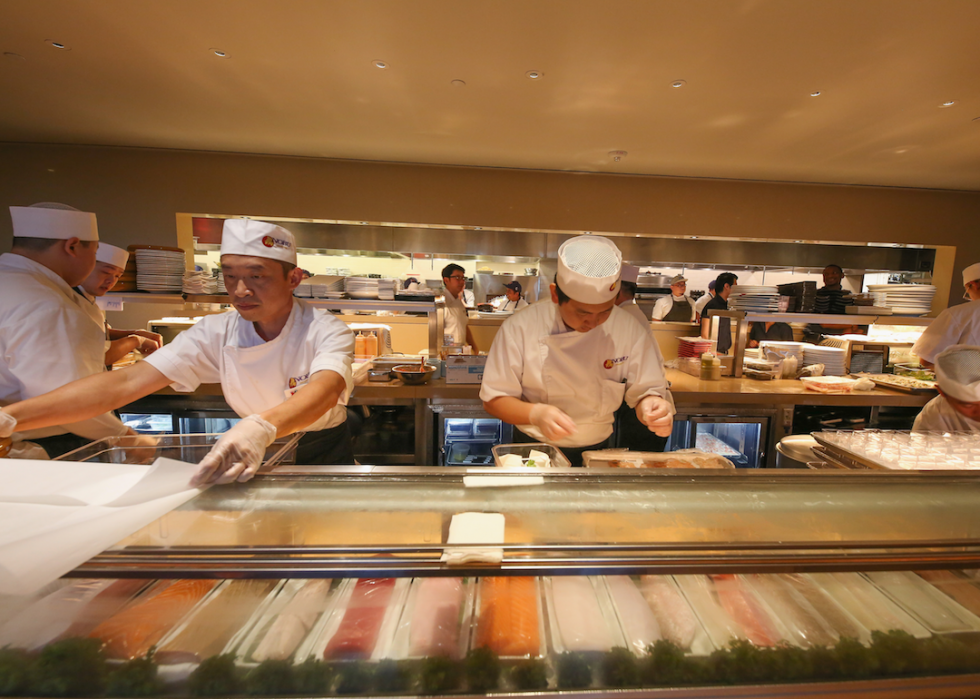 13 / 50
Rick Kern // Getty Images for Nobu
#34. Houston (tie)
National cuisines: 43
Houston is the largest city in Texas with 2.3 million people and a sizable Latino population. That accounts for a large variety of cuisines with Central and South American roots such as Honduran, Guatemalan, and Salvadoran. There's also a surprisingly large Vietnamese community here; Houston's top-rated restaurant in that category is Cafe TH.
[Pictured: Nobu Houston sushi chefs at work]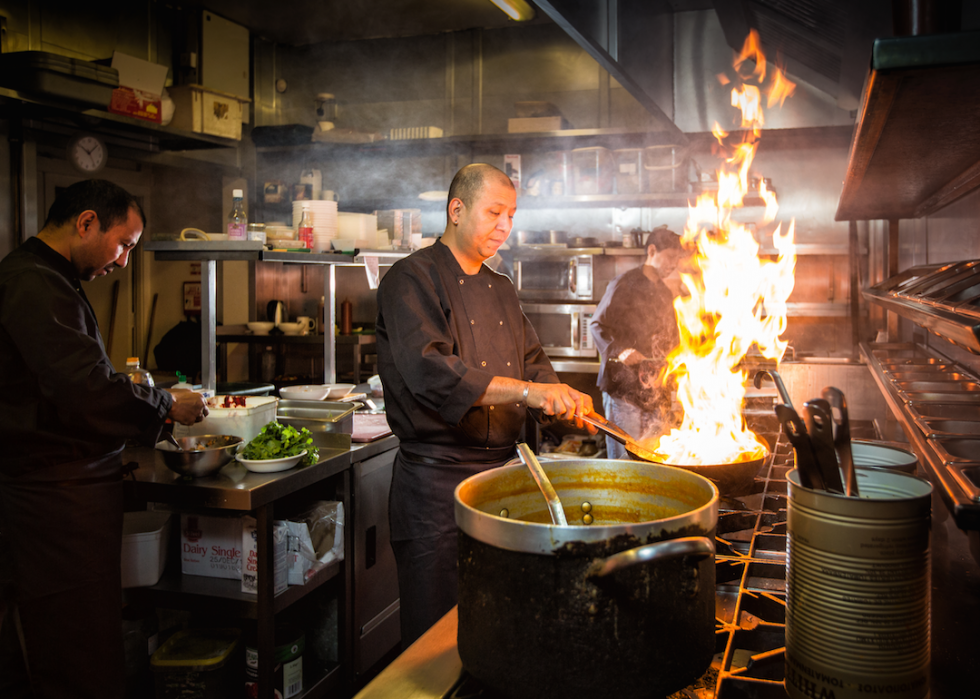 14 / 50
photopia // Shutterstock
#34. Manchester (tie)
National cuisines: 43
This British metropolis is tied for 34th on the list with 43 different national cuisines. Asian cuisines, specifically sub-continental restaurants that specialize in Indian, Pakistani, Nepalese, and Bangladeshi food are all here, as well as a large cohort of European specialities. South America only has one culinary emissary, in the form of all-you-can-eat Brazilian steakhouse Fazenda.
[Pictured: Three Nepalese chefs at work in Manchester.]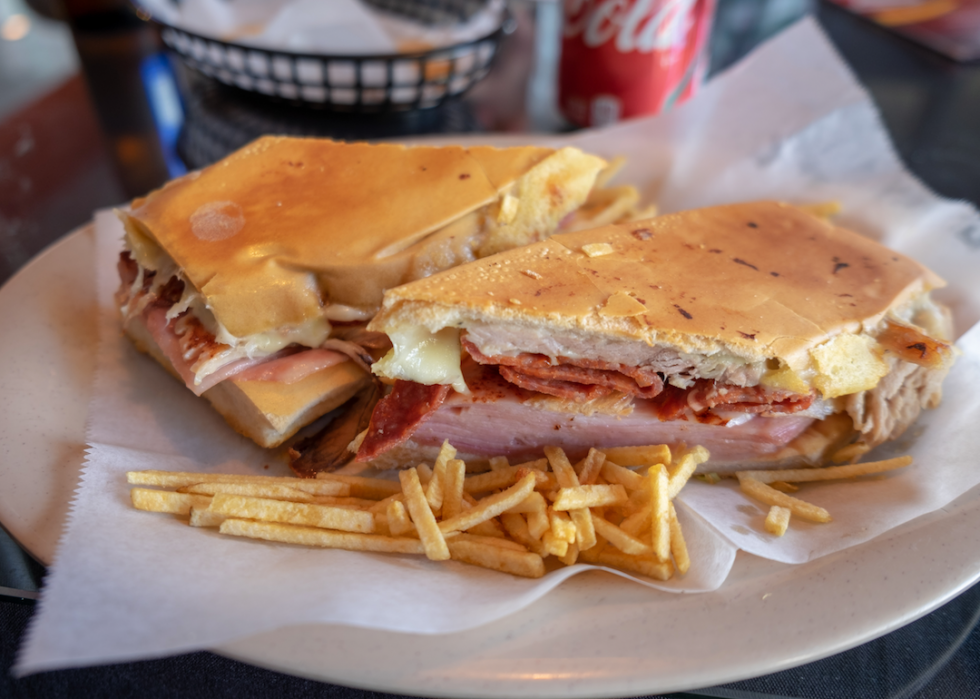 15 / 50
GASTON DE CARDENAS/AFP // Getty Images
#34. Miami (tie)
National cuisines: 43
Another city tied for 34th, Miami is well known for its large Cuban population—and in fact, 70% of its population is considered Latinx. That has led to a preponderance of North, Central, and South American restaurants coming from countries such as Trinidad, Nicaragua, and Colombia. Of course, Cuban food is extremely popular in Miami with many Cuban restaurants concentrated in the area known as Little Havana.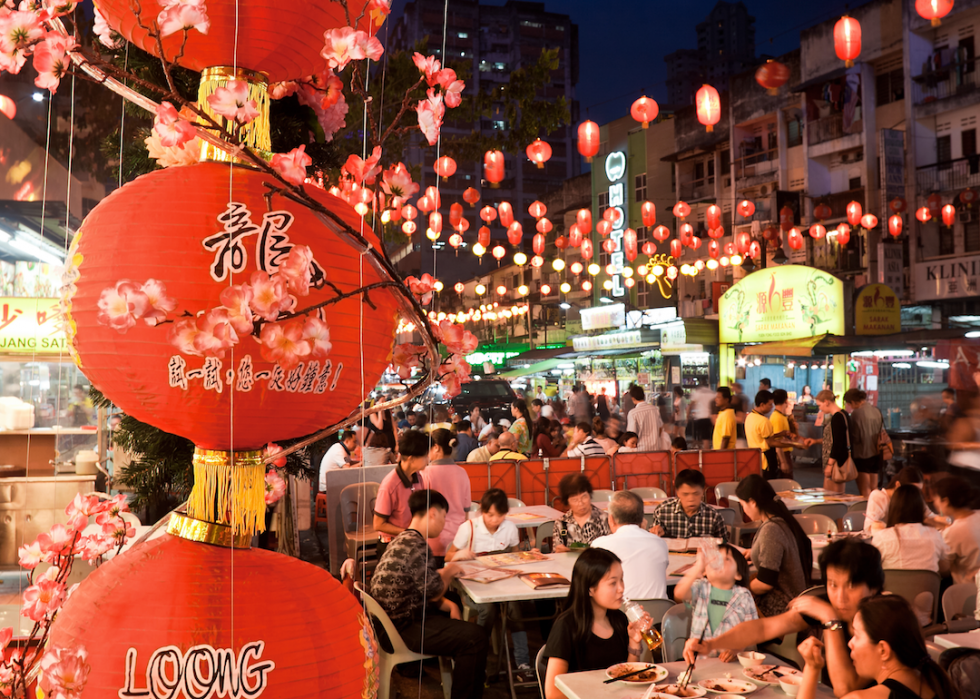 16 / 50
Migel // Shutterstock
#34. Kuala Lumpur (tie)
National cuisines: 43
The largest city in Malaysia is a melting pot of cultures, so it's no surprise that it shares the #34 spot with 43 different national cuisines. As one might expect, Asia dominates the landscape here with a whopping 26 entries including more obscure options such as Timorese, Kazakh, and Maldivian.
[Pictured: International restaurants abound on Jalan Alor.]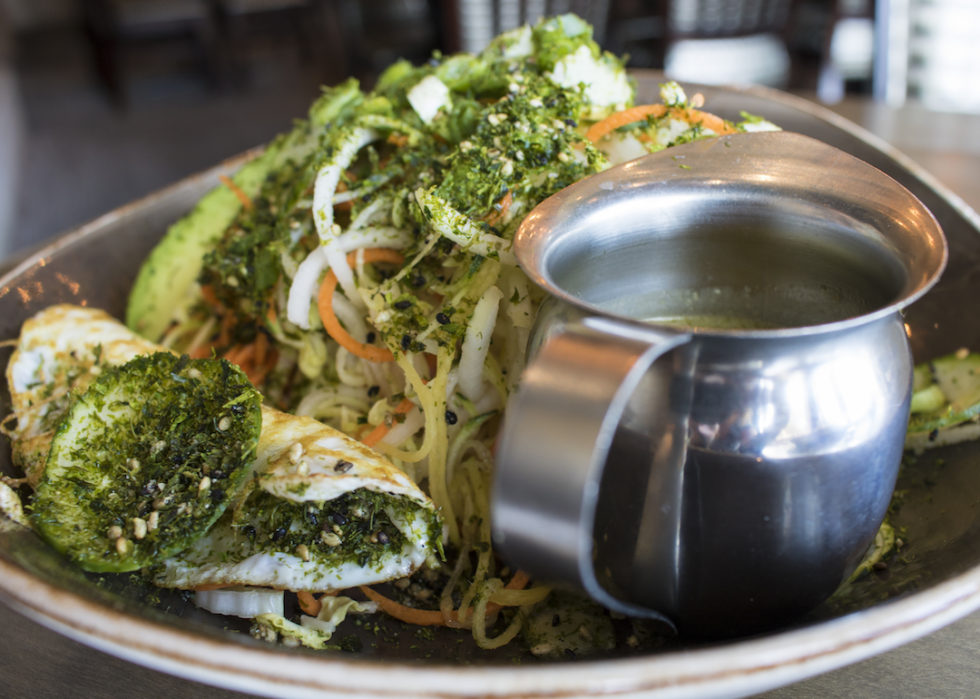 17 / 50
Emily Luxton // Shutterstock
#34. Edmonton (tie)
National cuisines: 43
The fifth city to share 34th place is Edmonton, Canada's fifth-largest city with just under 1 million inhabitants. Slovakian fans can enjoy Bistro Praha while anyone craving injera can visit Walla Ethio Eritrean Restaurant for their East African specialties.
[Pictured: A roasted vegetable dish at Ampersand 27.]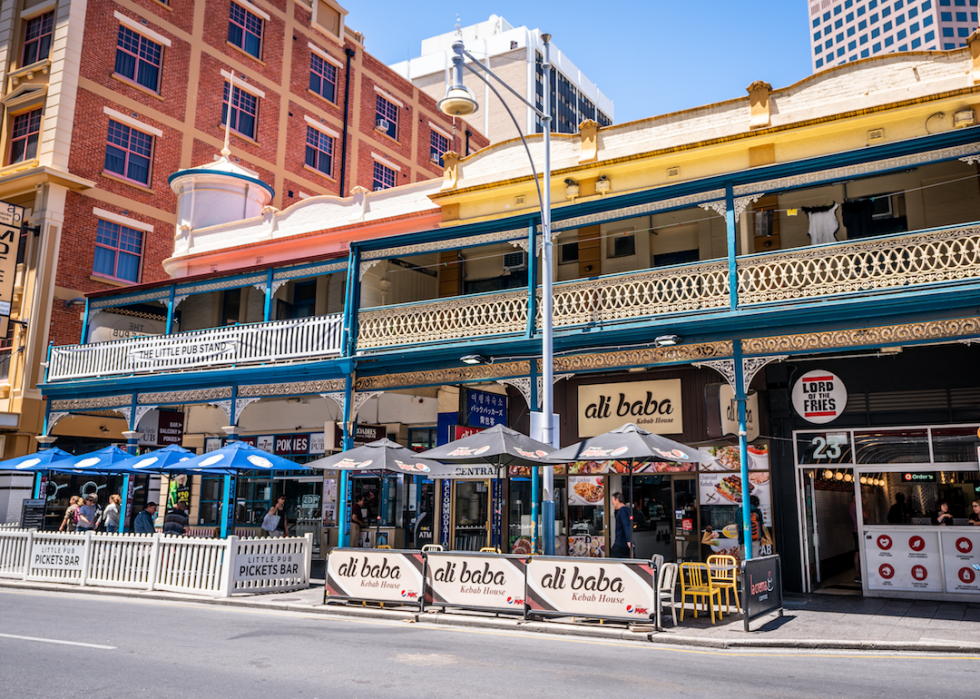 18 / 50
Keitma // Shutterstock
#29. Adelaide (tie)
National cuisines: 44
South Australia's largest city earned its spot with 44 different cuisines that rely mainly on Asian and European cultures. On the flip side, the Americas are rather light, but visitors can stop by the Sneaky Pickle for their top-rated American restaurant.
[Pictured: Historic Victorian buildings on Hindley street feature international dining.]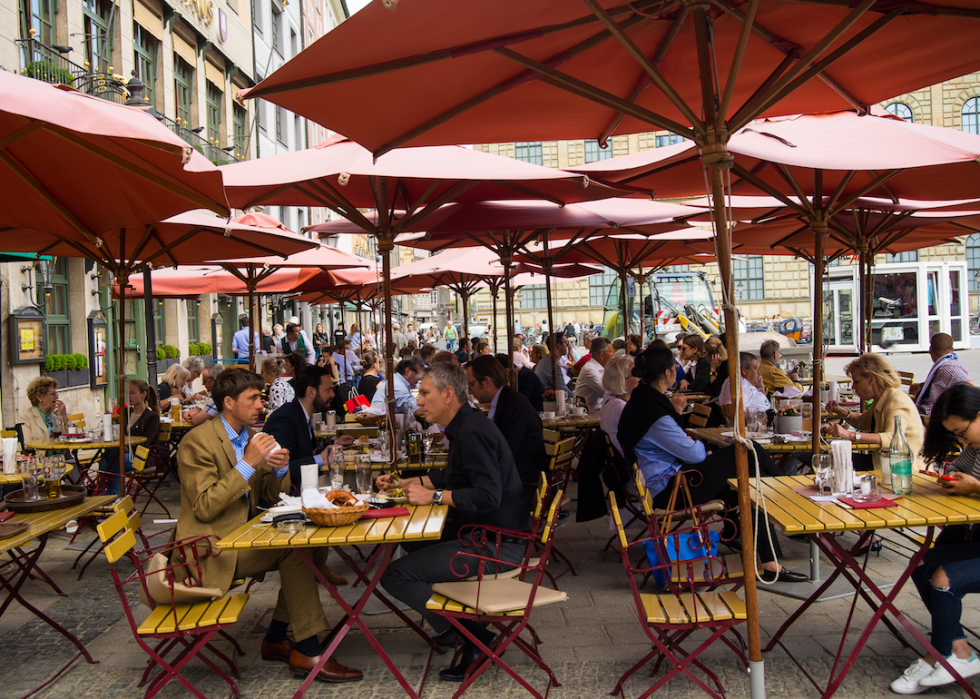 19 / 50
Jesus Fernandez // Shutterstock
#29. Munich (tie)
National cuisines: 44
Germany's first appearance on the list comes in the form of Munich, where surrounding European countries are well represented. The city also has the honor of being the first to feature a restaurant serving food from the tiny African nation of Togo.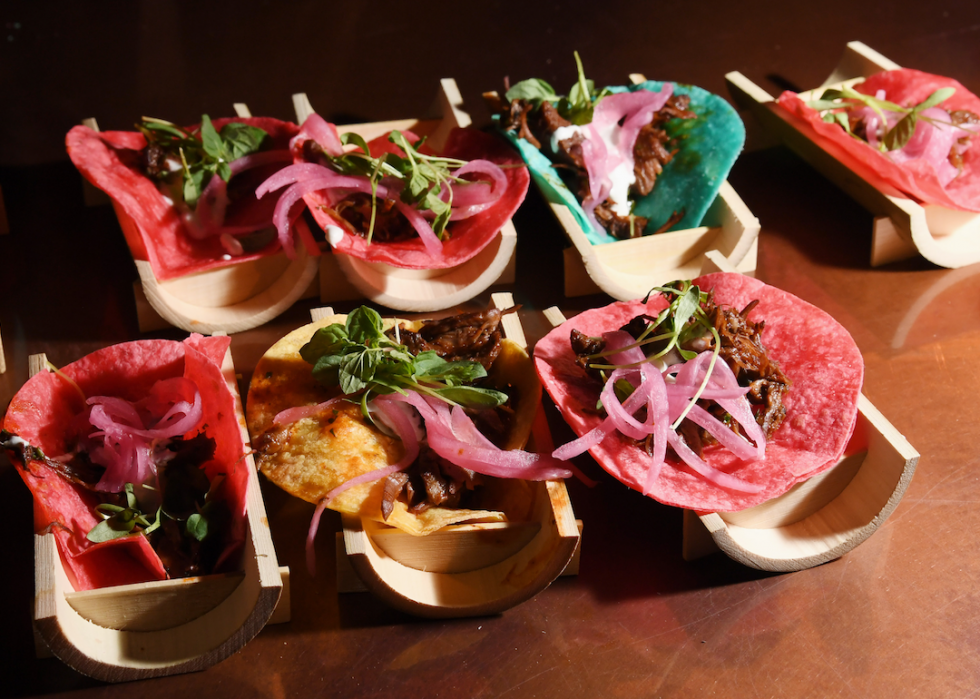 20 / 50
Ethan Miller // Getty Images for Vegas Uncork'd by Bon Appétit
#29. Las Vegas (tie)
National cuisines: 44
Las Vegas attracts visitors from all over the world and there are restaurants to please just about everyone. While the Strip is a bastion of French, Italian, Chinese, Japanese, and American options, a huge Chinatown features several cuisines from around Asia. While Australia is technically included here in the form of Outback Steakhouse, the restaurant was actually founded in Tampa, Fla.
[Pictured: Lamb barbacoa tacos are served at the Mesa Grill booth at the 13th annual Vegas Uncork'd by Bon Appetit Grand Tasting event.]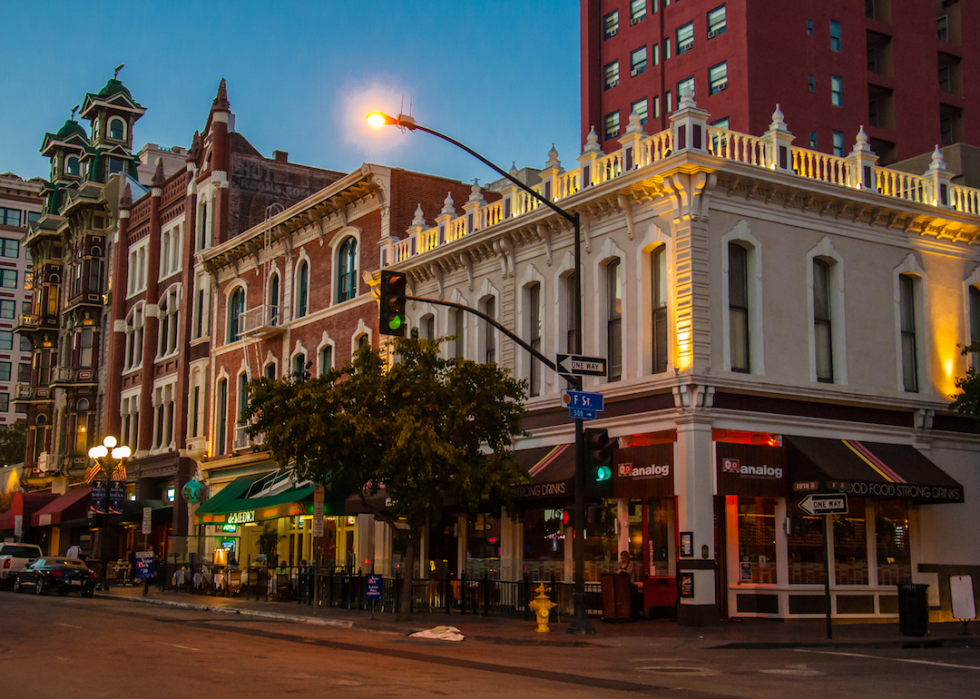 21 / 50
Nick Fox // Shutterstock
#29. San Diego (tie)
National cuisines: 44
San Diego's location on the border of Mexico has given it a reputation as a great source for Mexican food, but there are 43 other international cuisines available here. It's actually one of the few cities on this list to include a restaurant with New Zealand/Kiwi cuisine.
[Pictured: Restaurants on Fifth Avenue in the Gaslamp Quarter Historic District.]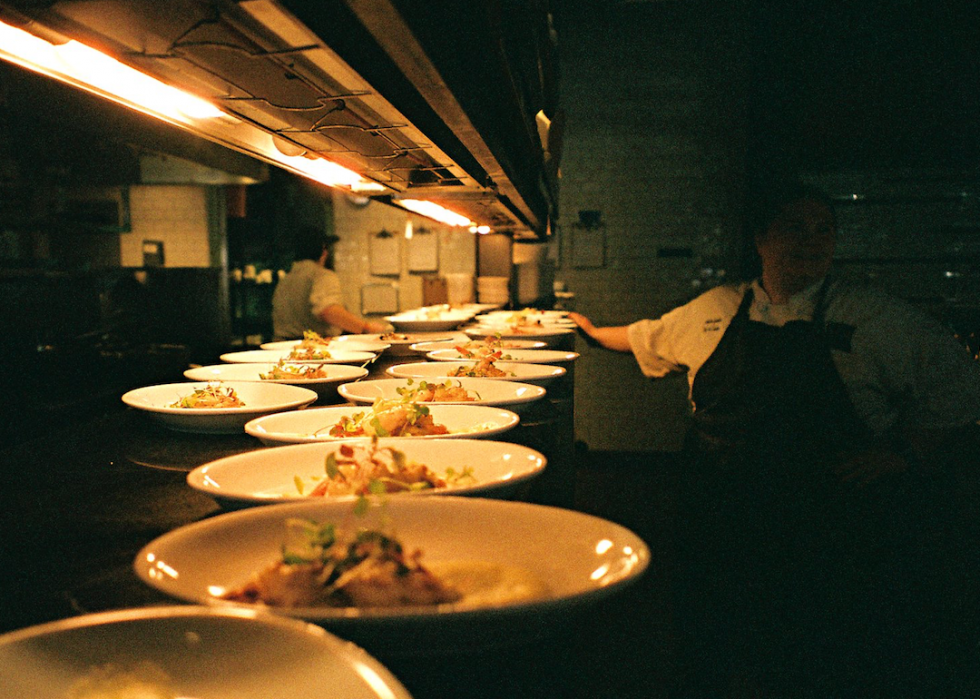 22 / 50
lillie kate // Flickr
#29. Atlanta (tie)
National cuisines: 44
To residents of Atlanta, Ga., international cuisine is synonymous with Buford Highway, a stretch of road filled with exotic dining options. There, visitors can find the food of 20 different international cultures from Taiwanese to Venezuelan. Atlanta also has one of the largest contingents of African foods with eight different nations on its culinary map.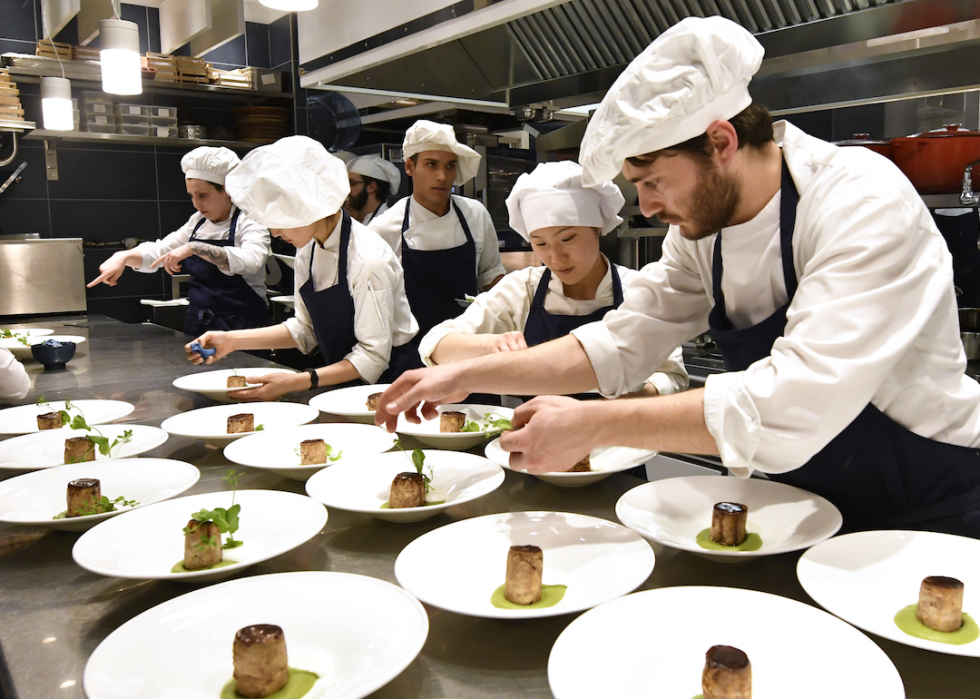 23 / 50
Paolo Bona // Shutterstock
#28. Milan
National cuisines: 45
Thanks to its fashion industry, Milan plays host to an incredibly international crowd. That's reflected in the 45 different national cuisines on offer here from Ecuadorian to Malian. Fans of Swedish food and indie music lovers will both be pleased by the presence of Swedish restaurant Björk.
[Pictured: Cooks at work in Michelin-starred Alice Ristorante in Eataly Smeraldo.]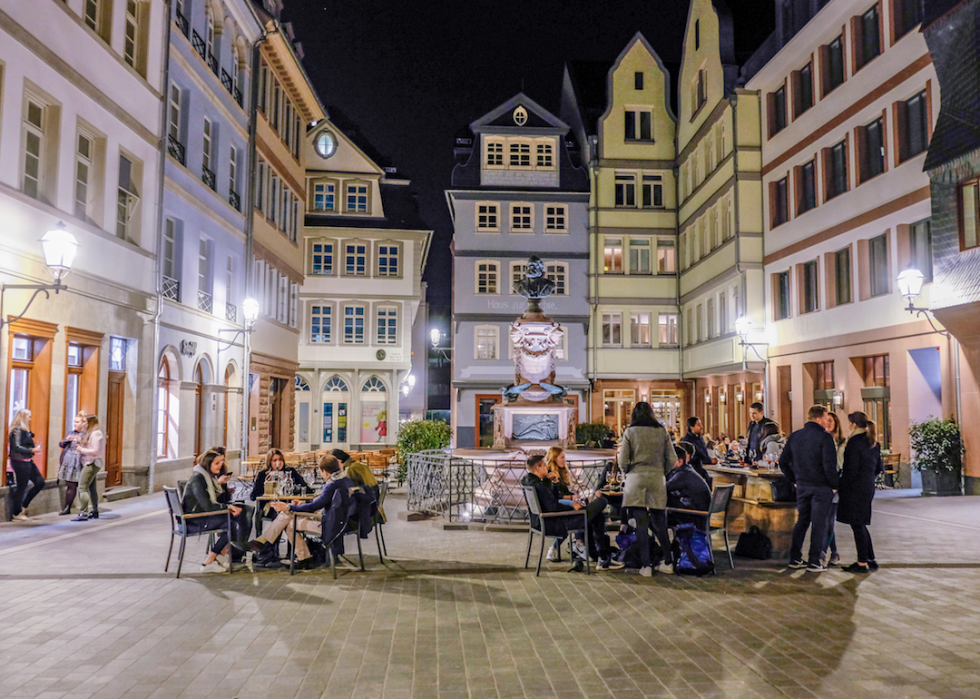 24 / 50
travelview // Shutterstock
#27. Frankfurt
National cuisines: 46
With just two more national cuisines than its German brother Munich, Frankfurt proves that it's more than just a haven for sausages. The city offers a high concentration of European favorites and a nice variety of Asian, African, and South American choices, too.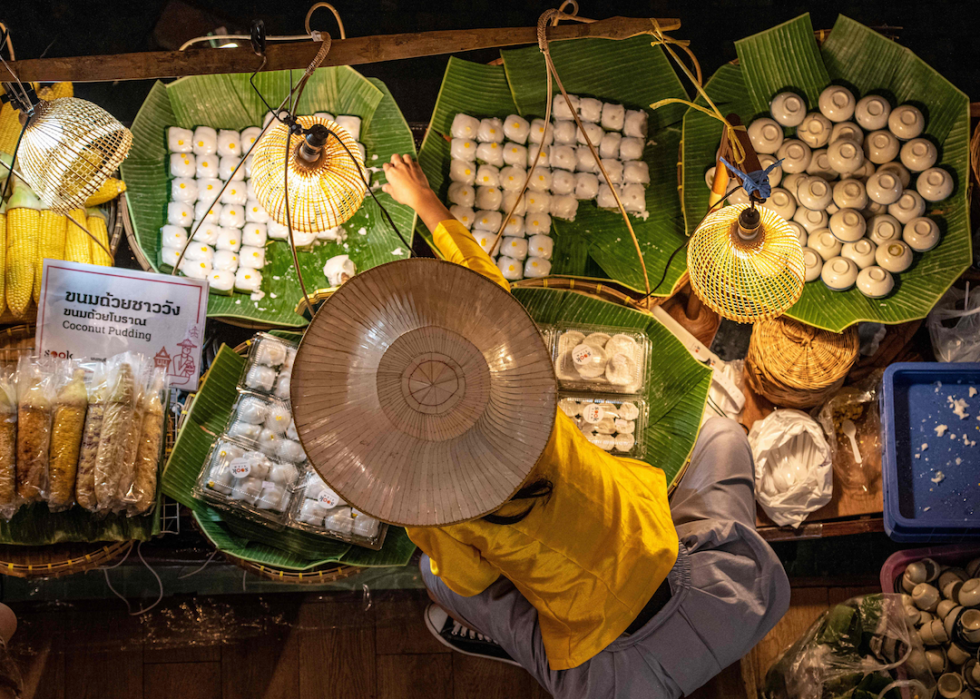 25 / 50
MLADEN ANTONOV/AFP // Getty Images
#25. Bangkok (tie)
National cuisines: 48
The fourth-best restaurant in the world—according to William Reed's 2019 list—serves ultra-creative, Indian-inspired global favorites in the heart of Bangkok. In addition, the Thai capital has an entire constellation of Asian options and even a kosher Moroccan restaurant called Aaida Cuisine.
[Pictured: A vendor sells food at the floating market of ICONSIAM shopping mall. ]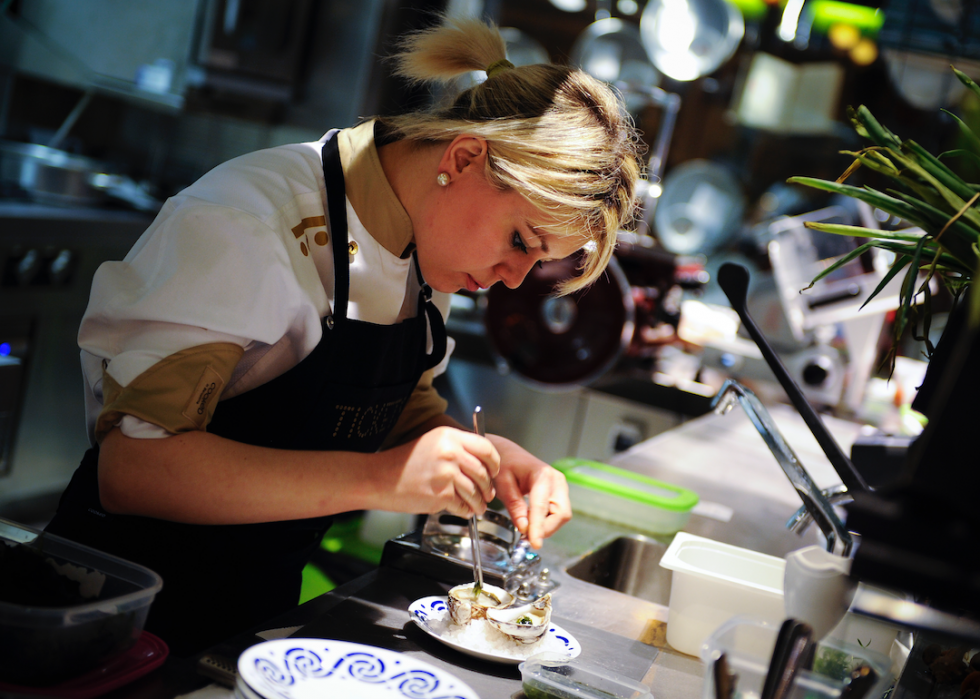 26 / 50
David Ramos // Getty Images
#25. Barcelona (tie)
National cuisines: 48
Barcelona captured the attention of the culinary world with groundbreaking modernist restaurants like El Celler de Can Roca and the now-closed elBulli. It's not all experimental in Barcelona, though. The city has a thriving South American food scene and restaurants that reflect the cuisine of 48 different cultures.
[Pictured: A cook prepares tapas at Tickets, a restaurant created by brothers Ferran and Albert Adria.]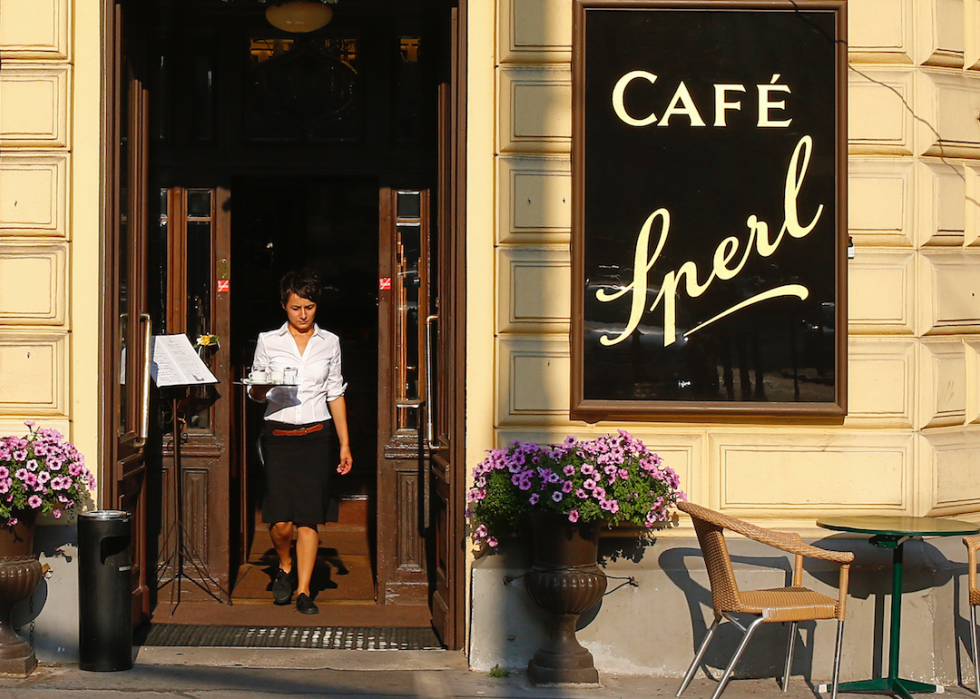 27 / 50
ALEXANDER KLEIN/AFP // Getty Images
#21. Vienna (tie)
National cuisines: 49
Austria's capital may not get the same spotlight as other major European cities, but what it lacks in attention it makes up for in culinary diversity. The range of European restaurants in Vienna is so vast that they even have an Icelandic restaurant called Home Cafe.
[Pictured: A waitress steps out of the Cafe Sperl in Vienna.]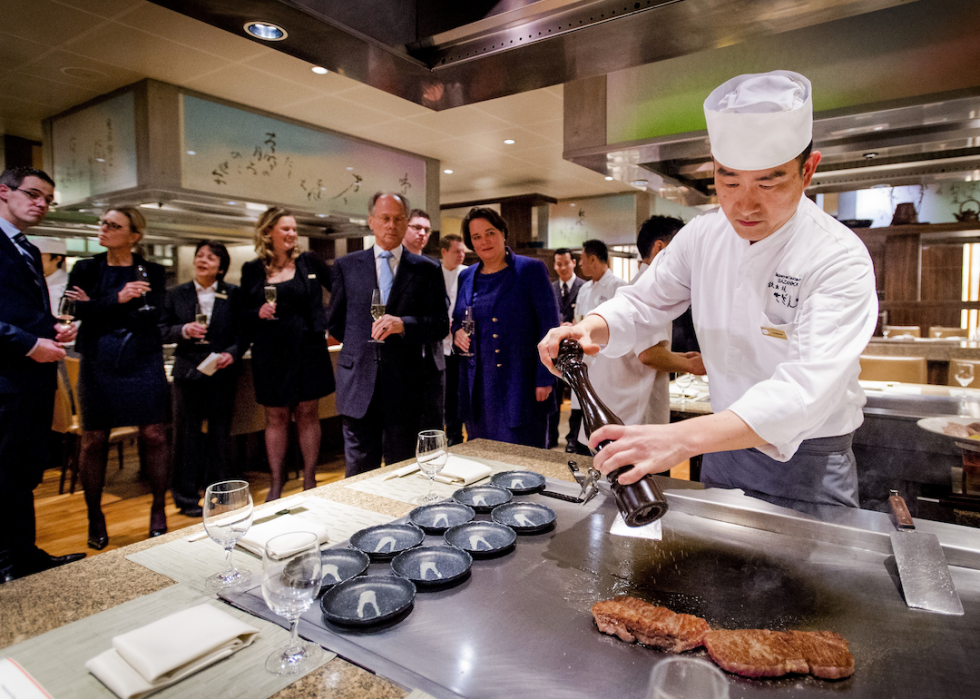 28 / 50
ROBIN VAN LONKHUIJSEN/AFP // Getty Images
#21. Amsterdam (tie)
National cuisines: 49
Sixteen restaurants have earned Michelin stars in Amsterdam, and the diversity of cuisine in those highly rated restaurants (including Japanese, French, and more) is indicative of Amsterdam's dining scene on the whole. With nearly 50 different national cuisines on offer, this Dutch city has everything from Cuban to Israeli.
[Pictured: Chef Yuji Matsuda of the Michelin starred Teppanyaki restaurant Sazanka prepares food.]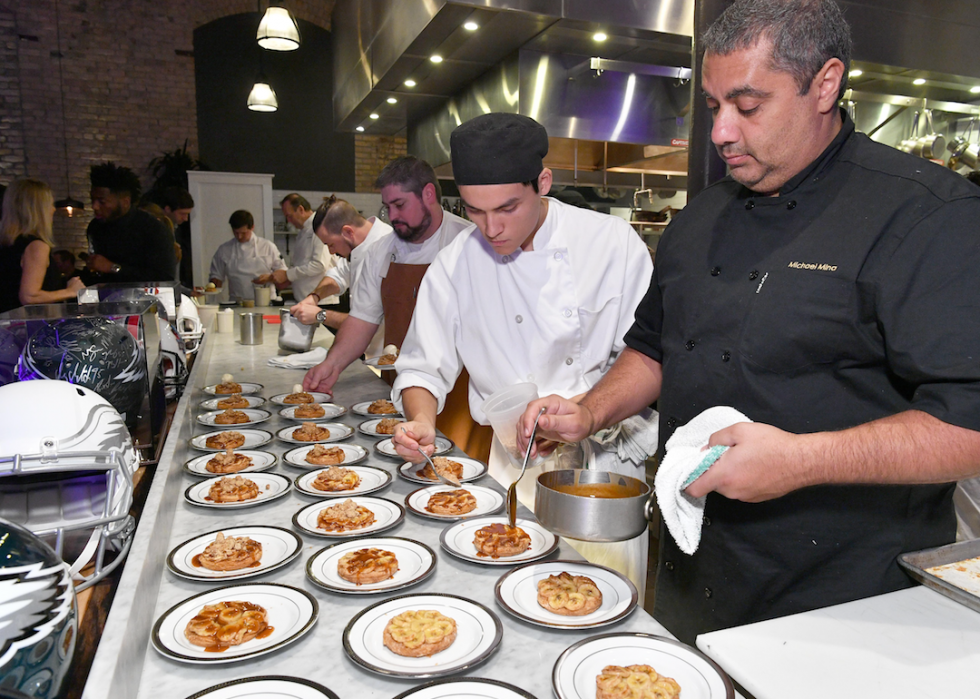 29 / 50
Dia Dipasupil // Getty Images for #Culinary Kickoff
#21. Minneapolis (tie)
National cuisines: 49
Although the population of Minneapolis pales in comparison to some of the other cities on this list, its restaurant diversity is on par with some of the most well-known cities in the world. On any given day, a diner can eat Peruvian, Liberian, and Finnish before a stop at Tom Reid's Hockey City Pub for a taste of the city's Canadian neighbors to the north.
[Pictured: Chef Michael Mina prepares dessert at the #Culinary Kickoff at Spoon And Stables Restaurant.]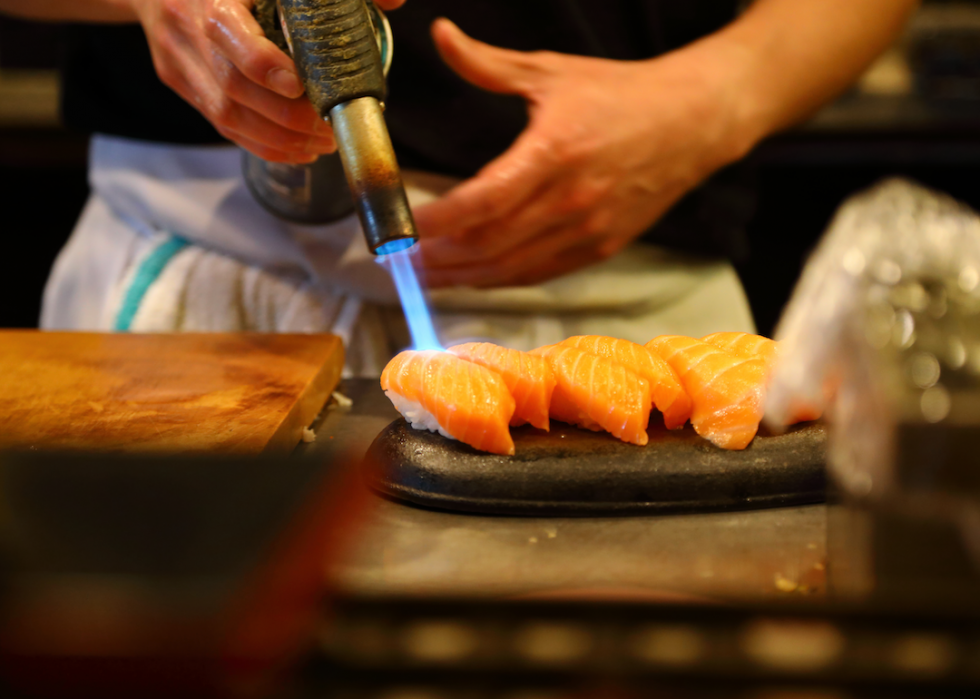 30 / 50
Timothy Yue // Shutterstock
#21. Calgary (tie)
National cuisines: 49
Speaking of Canada, Calgary arrives on this list in a tie for 21st place with an astounding 49 national cuisines. While it doesn't have any representation from Australasia, the restaurants are a diversified mix of Asian, European, African, and North/South American choices. Both Danish and Dutch food are present in Calgary and that's a rarity compared to the rest of this list.
[Pictured: Sushi chefs at work in a Japanese restaurant.]
31 / 50
Tupungato // Shutterstock
#20. Brussels
National cuisines: 50
The Belgians are known for their beer and fries, but there's also an eclectic restaurant scene in Brussels. While the country is limited when it comes to North America (only Mexican and Cuban restaurants are listed), the city offers a nice selection of South American choices and one of the most diverse African restaurant collections of any entry on this list.
[Pictured: Rue des Bouchers is famous for numerous restaurants offering cuisine from any place in the world.]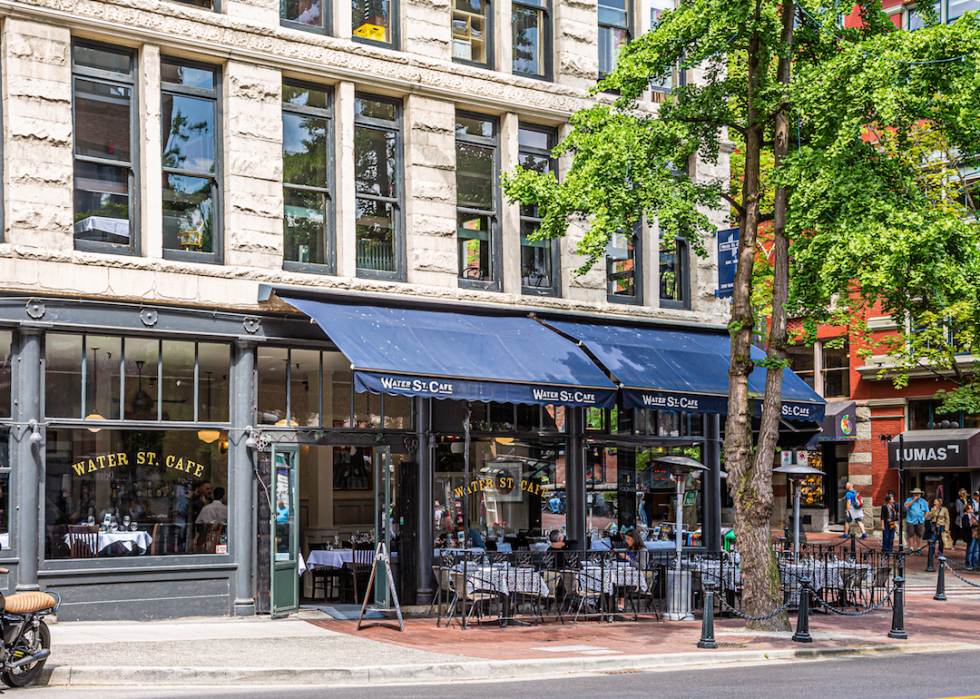 32 / 50
Darryl Brooks // Shutterstock
#19. Vancouver
National cuisines: 52
On Canada's Pacific coast, Vancouver has established itself as an Asian food powerhouse. That said, the city is home to an almost equal number of Asian and European options. Russian food fans may be amused to discover that the top-rated restaurant in the city is a pelmeni shop named "Hey, Dumplings!"
33 / 50
Mat Hayward // Getty Images for WeWork
#16. Seattle (tie)
National cuisines: 53
Seattle is basically Vancouver's American cousin, but it has an even more diversified food landscape. Asian food leads the way with 19 different cuisines featured, and there's a decent mix of other global favorites as well.
[Pictured: Renee Erickson Chef and Co-Founder of Sea Creatures prepares a plate.]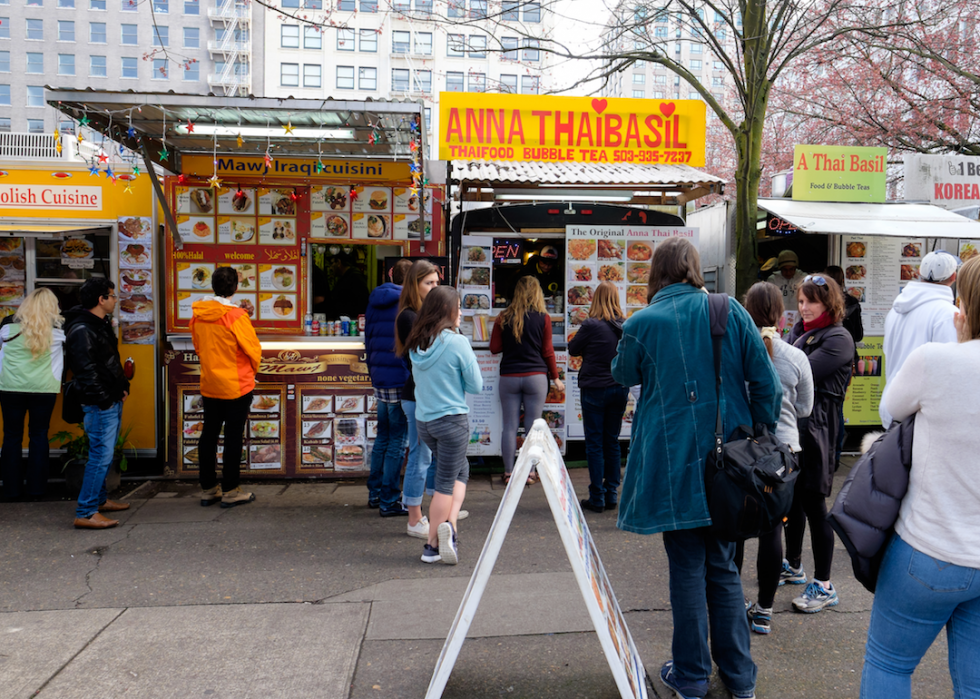 34 / 50
Joshua Rainey Photography // Shutterstock
#16. Portland (tie)
National cuisines: 53
Continuing down the West Coast, Portland is tied with Seattle with 53 different national cuisines represented. Portland's culinary diversity is especially prominent in its thriving food cart scene where chefs set up over 500 mini-restaurants inside of carts serving everything from Norwegian to Laotian.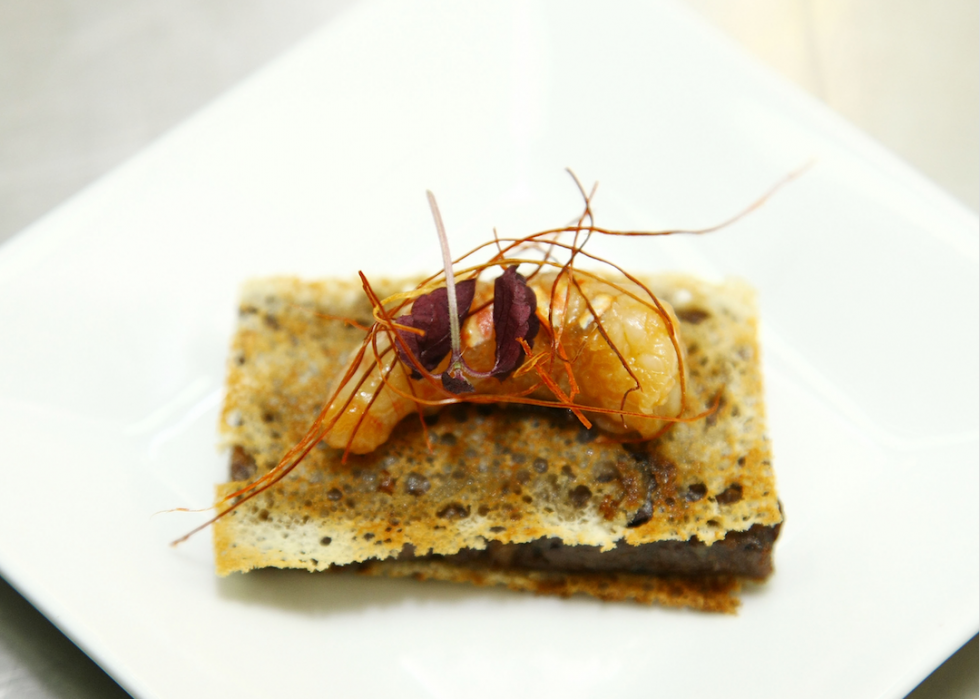 35 / 50
Neilson Barnard // Getty Images for Conundrum
#16. Madrid (tie)
National cuisines: 53
The third city to come in at #16 is Madrid, which offers a similar mix of cuisines to fellow Spanish city Barcelona, but with a higher count of restaurants from North and Central America. Madrid may be known for tapas, but visitors and residents alike can also indulge in Canadian, Costa Rican, and Ukrainian menus.
[Pictured: View of Ox tail crispy sandwich, spicy "ajillo" ama abi by Michelin starred DiverXo Chef David Munoz.]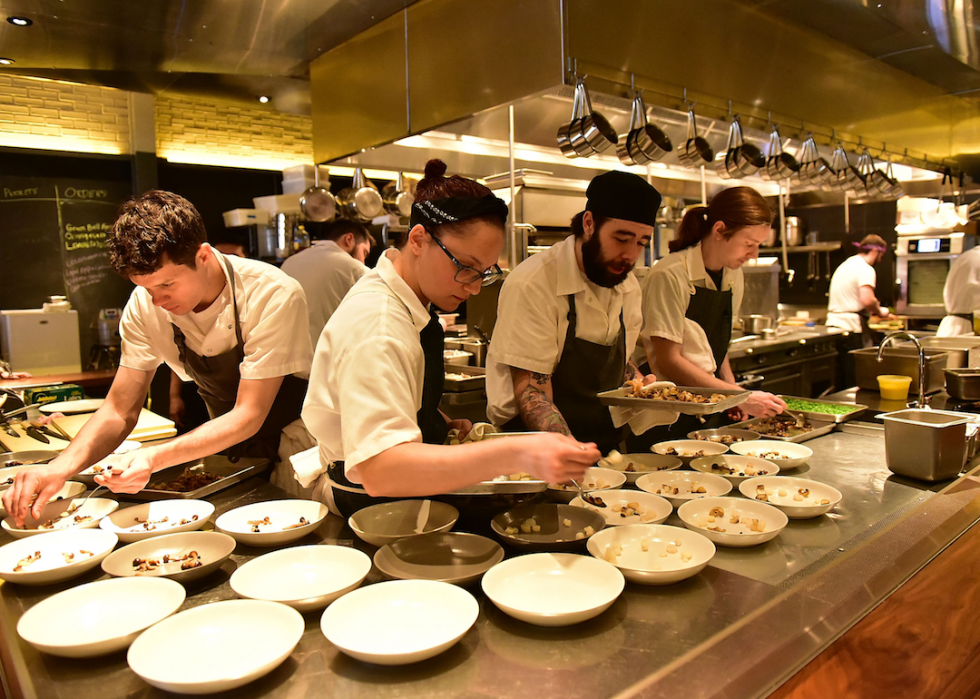 36 / 50
Lisa Lake // Getty Images for Audi
#15. Philadelphia
National cuisines: 54
The City of Brotherly Love is most known for its cheesesteaks, but Philly has emerged as an up-and-coming foodie destination with award-winning international restaurants like Zahav (Israeli) and Hardena (Indonesian). While there's no love for Canada here, Philadelphia does offer a good collection of South American and African options.
[Pictured: Chefs of Serpico Restaurant plate food.]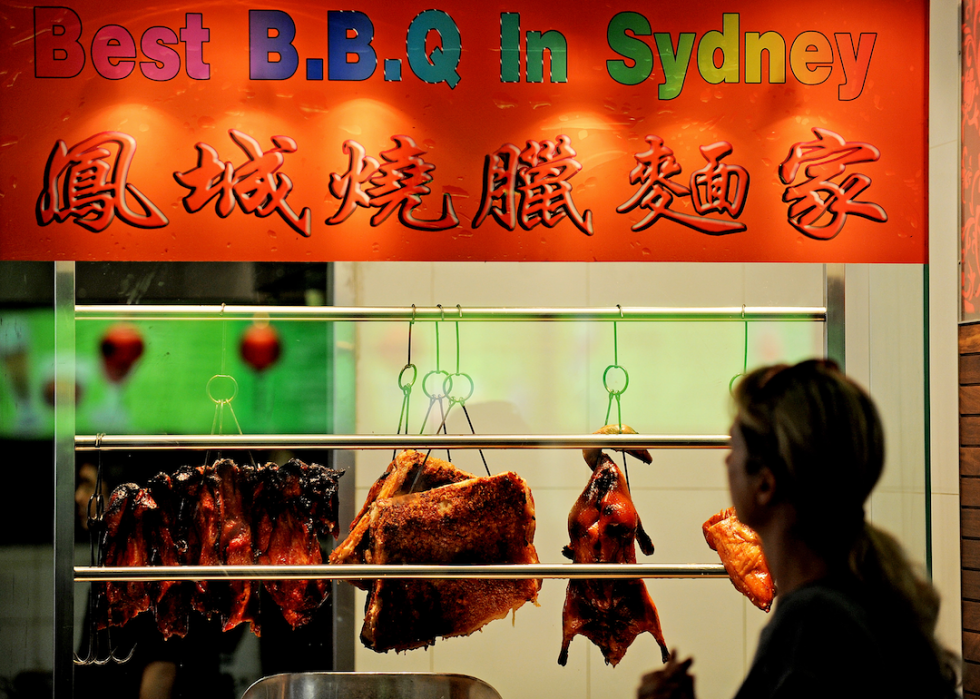 37 / 50
GREG WOOD/AFP // Getty Images
#14. Sydney
National cuisines: 56
Australia's biggest city is also one of its most diverse when it comes to national cuisines. Africa and South America dishes aren't nearly as prominent here, but Sydney more than makes up for that with one of the most expansive collections of Asian restaurants on the list with 24 different nationalities. Sydney is also home to food from the island of Tonga, which is rarely represented on the international food scene.
[Pictured: A woman walks past a barbecue food outlet in a foodcourt in Sydney's Chinatown.]
38 / 50
Paul Marotta // Getty Images for American Express
#13. Boston
National cuisines: 57
Boston is small, but mighty when it comes to international cuisine. That may be due in part to the many universities and colleges that call Beantown home. With so many international students and visitors, it's no wonder that the city offers 57 different national cuisines with an emphasis on Asian flavors (both East Asian and Middle Eastern).
[Pictured: A southeast Asian inspired plate at Tiger Mama Restaurant.]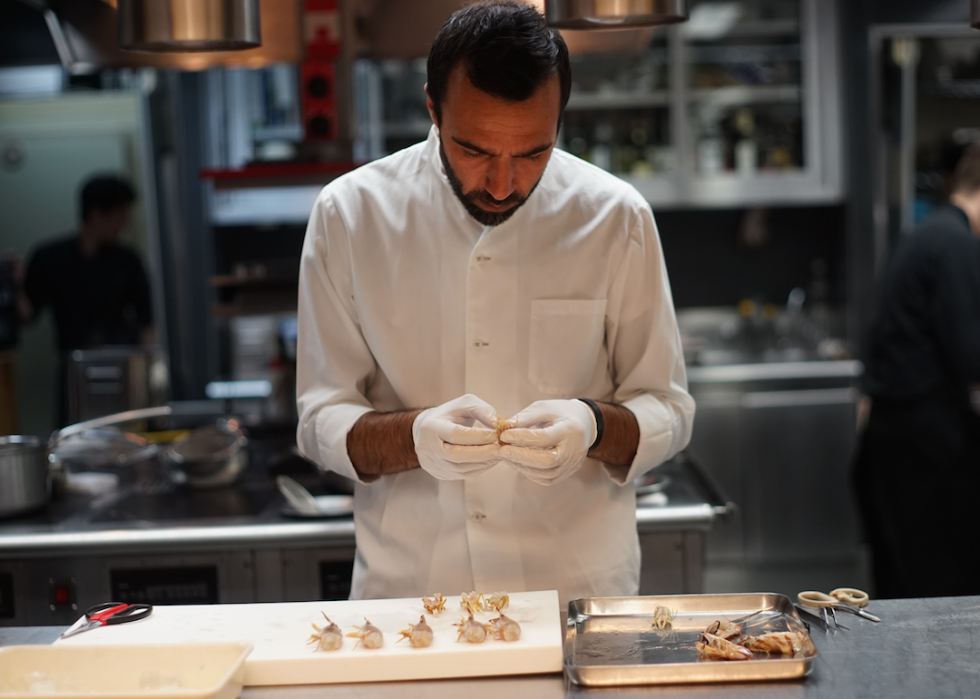 39 / 50
KAZUHIRO NOGI/AFP // Getty Images
#11. Tokyo (tie)
National cuisines: 58
Japan lags behind only France when it comes to the total number of Michelin stars, and Tokyo is a huge reason why. The metropolis offers food from every inhabitable continent and the level of execution is extremely high, thanks to the incredible standards set by Japanese chefs and foreigners alike. Oddly enough, their highest-rated American restaurant is T.G.I. Friday's.
[Pictured: Michelin starred French chef Lionel Beccat preparing shrimp for a meal at his restaurant in Ginza.]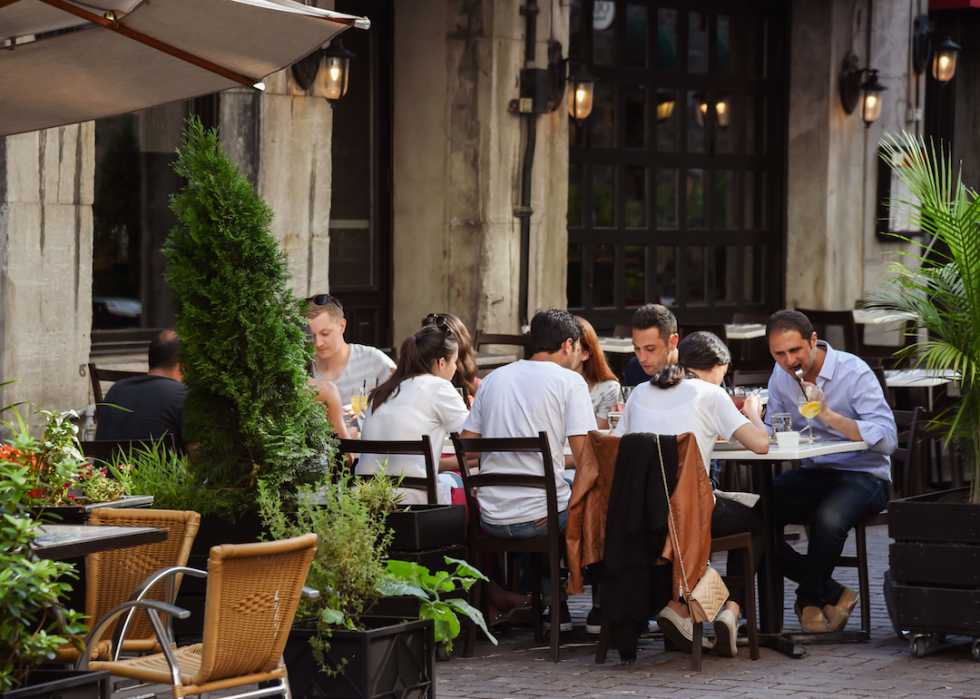 40 / 50
David Prahl // Shutterstock
#11. Montréal (tie)
National cuisines: 58
Montréal is a city that speaks two languages with both Canadian and French influences, but the culinary influence isn't limited to just those two cultures. With nearly 60 different cuisines available to Montrealers/Montréalais, the only difficulty is deciding what the next exotic meal will be.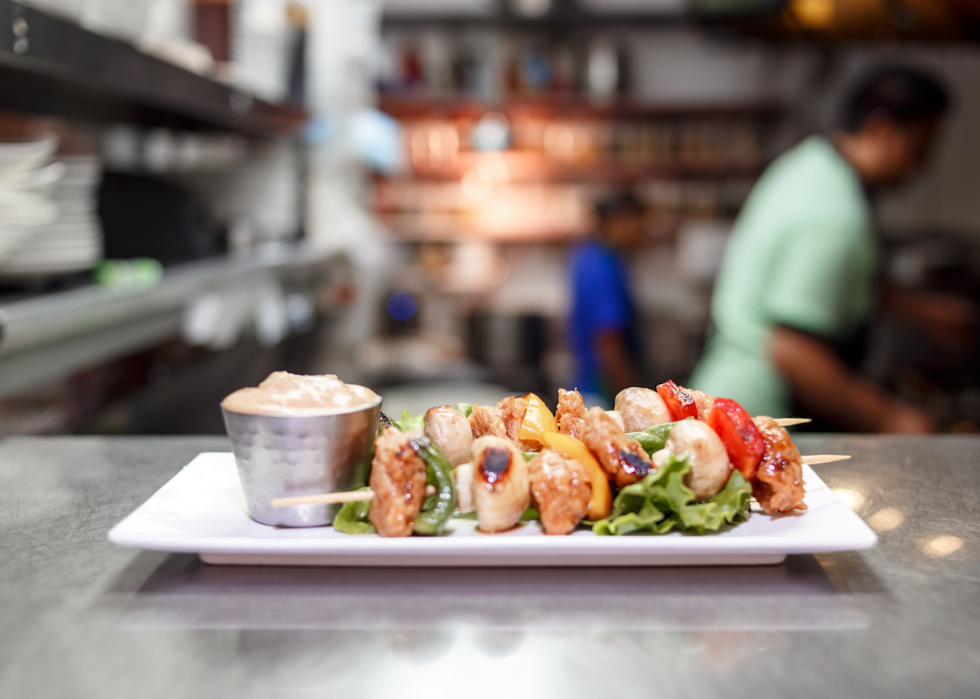 41 / 50
john.gillespie // Flickr
#10. San Francisco
National cuisines: 60
San Francisco hits the top 10 with 60 different cuisines available to its foodie residents. The city is known for its expansive Chinatown, but a full 40% of the gastronomic diversity in San Francisco is made up of restaurants from across the Asian continent.
[Pictured: A plate stands ready to be served at Ananda Fuara.]
42 / 50
macabrephotographer // Flickr
#9. Los Angeles
National cuisines: 61
The City of Angels has always been an international city with huge influences from both Asia and Latin cultures. While European influence is perhaps lighter than other major American cities, the enormous variety of Korean and Mexican restaurants alone is enough to convince any culinary traveler to stop in Los Angeles.
[Pictured: A scene at Hae Jang Chon Korean BBQ Restaurant.]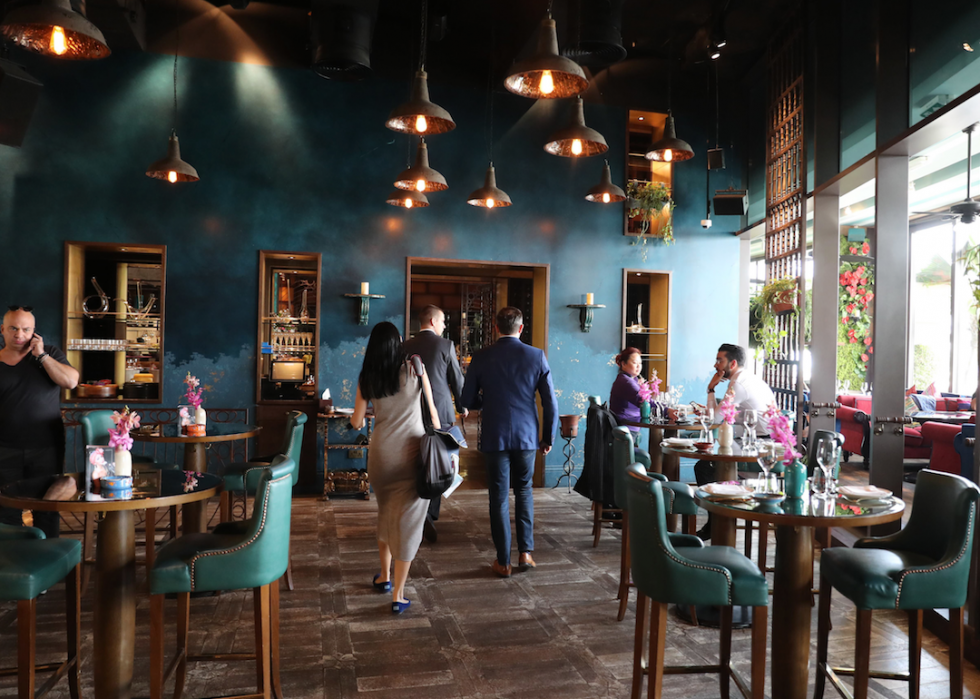 43 / 50
KARIM SAHIB/AFP // Getty Images
#8. Dubai
National cuisines: 62
Seemingly cropping up out of nowhere, Dubai has emerged into a world player in just a few short decades. As a financial center of the Middle East, international visitors and business people arrive in Dubai craving a taste of home. The result is 62 different national cuisines with an emphasis on Asian, European, and African flavors from countries nearest the desert nation.
[Pictured: Emirati and foreigners arrive to eat at a restaurant in Dubai.]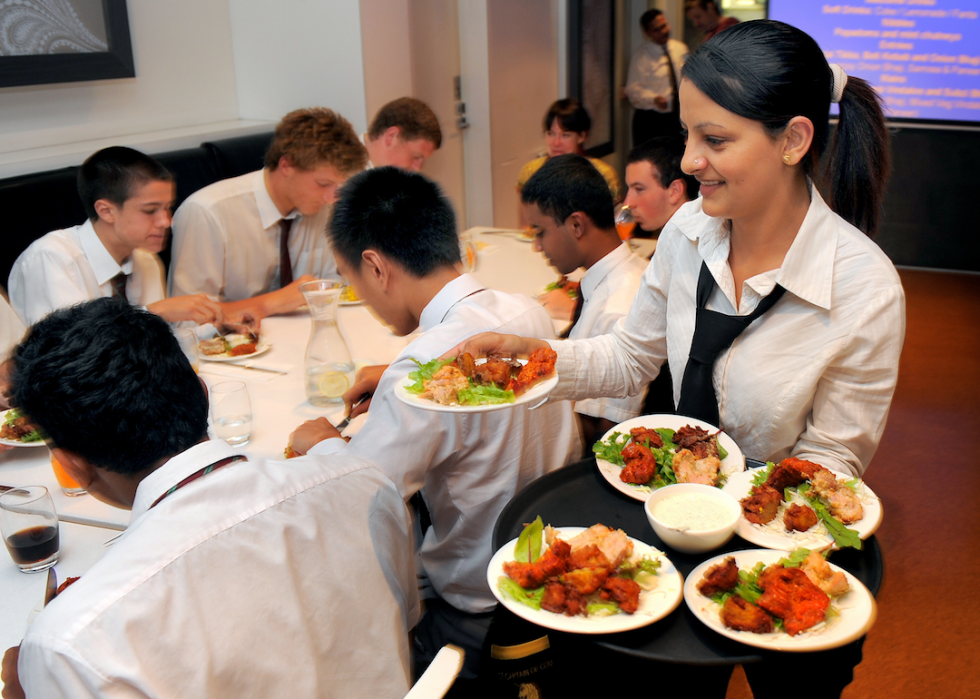 44 / 50
WILLIAM WEST/AFP // Getty Images
#6. Melbourne (tie)
National cuisines: 64
Sydney may get a lot of attention as the largest city in Australia, but Melbourne gets the crown as the most diverse food locale in the entire continent. Just like the demographics of the city itself, the food culture in Melbourne is a diverse mix of Asian, European, African, and other global influences. Despite the international flavor, the most famous restaurant in the city is Attica, a fine-dining restaurant that focuses mainly on indigenous Australian ingredients.
[Pictured: A busy dining scene at an Indian restaurant]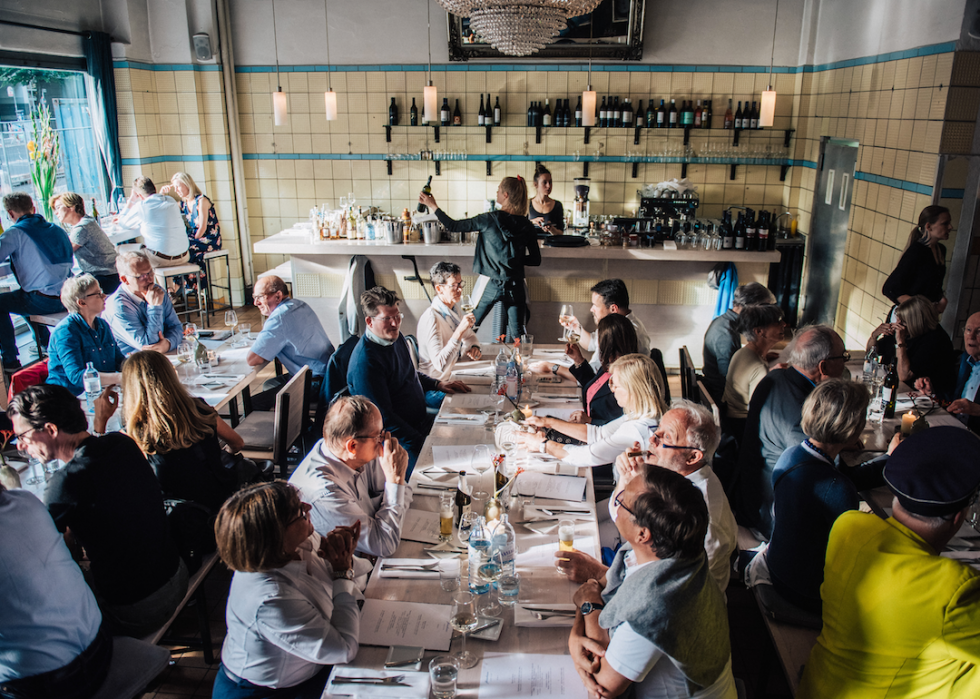 45 / 50
Zacharie Scheurer // Getty Images for HA Schult
#6. Berlin (tie)
National cuisines: 64
Berlin is the highest-rated German entrant on this list, where people from all walks of life have been welcomed for decades. Like most European capitals, the global food influence is divided fairly evenly with a smattering of lesser-known cuisines finding a home here including the dishes of Cyprus, Luxembourg, and Chile.
[Pictured: A scene at the restaurant Fleischerei.]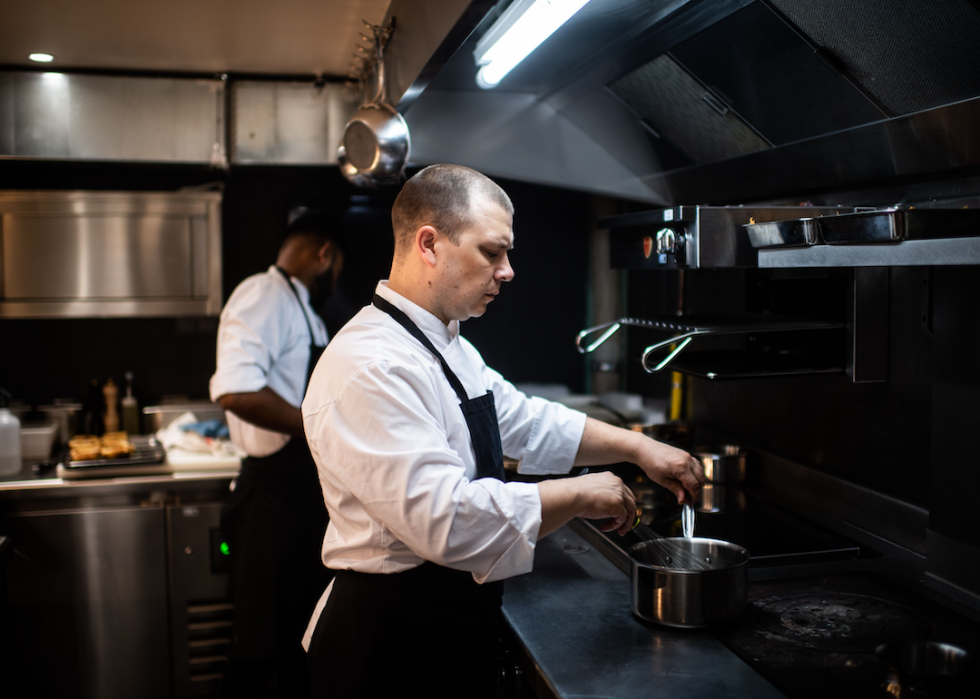 46 / 50
MARTIN BUREAU/AFP // Getty Images
#5. Paris
National cuisines: 65
Paris has been synonymous with gastronomy since the days of French chef Georges Auguste Escoffier, but today's Paris is a multicultural culinary hub where 65 different nationalities are represented by restaurants. There's a heavy dose of European options followed by a nice selection of Asian, North American, and African cuisines. While four Parisian restaurants appear in the World's 50 Best Restaurants list, they're all dedicated solely to French cuisine.
[Pictured: French Chef Marc Favier in his restaurant Marcore.]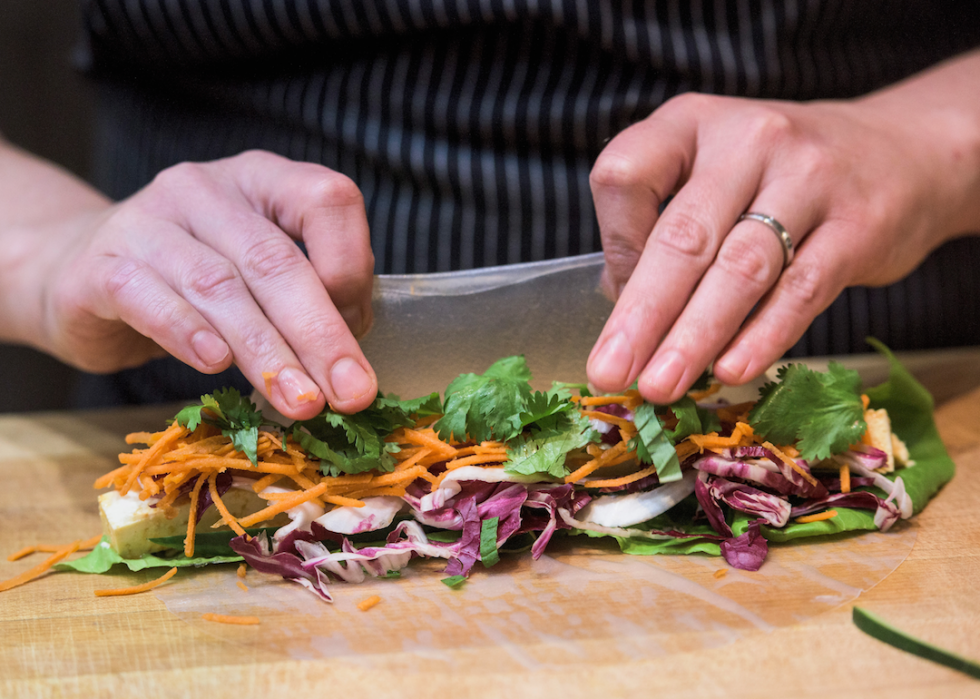 47 / 50
Erika Goldring // Getty Images for VH1 Save The Music Foundation
#4. Chicago
National cuisines: 66
Once considered the crossroads of America, Chicago has grown into a food city that deserves its international stature. Most people know Chicago for its pizza and hot dogs, but its culinary diversity is part of the city's heritage. Nearly every European cuisine is represented here, including Serbian, Czech, and Macedonian.
[Pictured: Chef Stephanie Izard prepares spring rolls in the kitchen at Little Goat Diner.]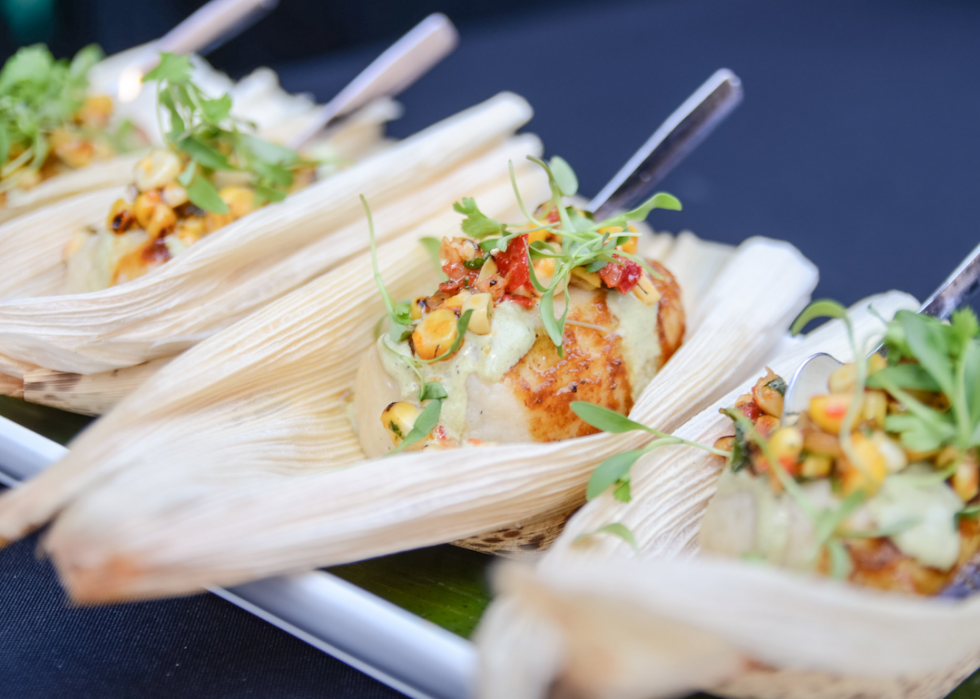 48 / 50
christopherharte // Flickr
#3. Toronto
National cuisines: 73
Toronto makes a huge jump to #3 on the list with seven more national cuisines than Chicago. The city is home to a large number of Caribbean islanders and the restaurant landscape reflects that with establishments serving Grenadian, Haitian, and Dominican food.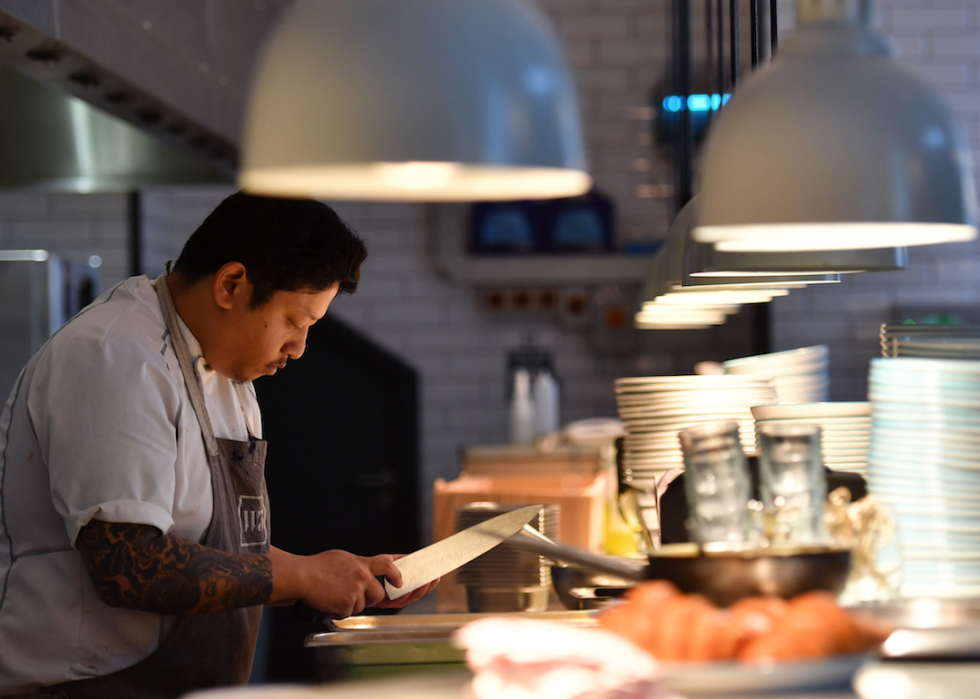 49 / 50
BEN STANSALL/AFP // Getty Images
#2. London
National cuisines: 89
London has been an international center for culture and commerce for centuries, so it's no wonder that it's home to so many cuisines. Out of every city on this list, London has the highest variety of African restaurants with 15 different nations represented, including the well-regarded Mauritian Xpress from the minuscule island of Mauritius.
[Pictured: A chef prepares food in Charlotte's W5 restaurant.]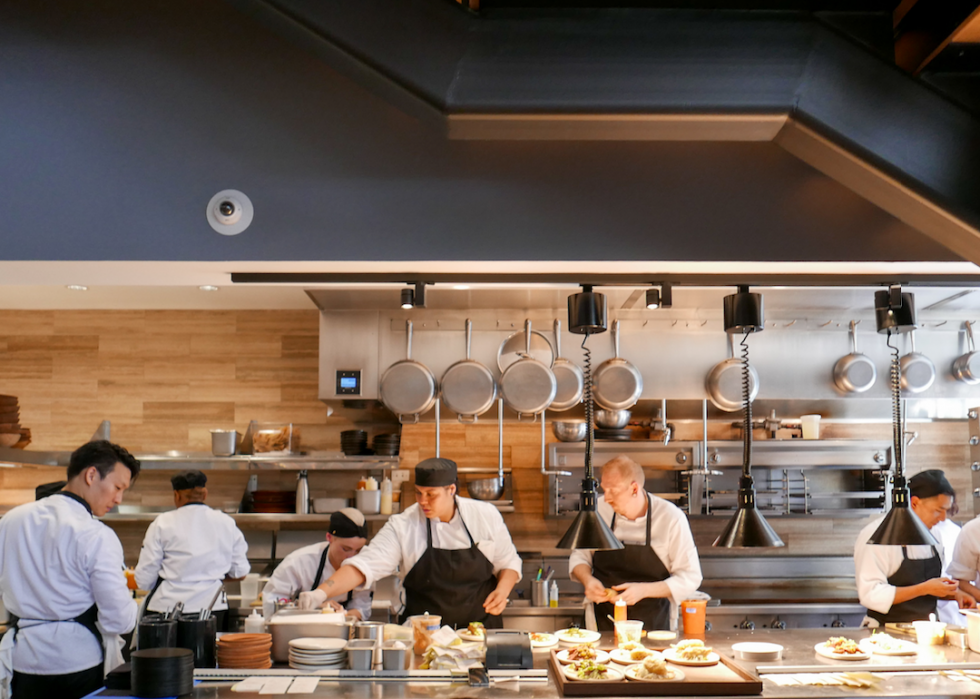 50 / 50
loustejskal.com // Flickr
#1. New York
National cuisines: 94
Any fan of international cuisines will find their version of heaven in New York City where 94 different culinary nationalities are represented. That's nearly half of the world's 195 different countries. More impressively, three of the world's best 30 restaurants reside here (Eleven Madison Park, Cosme, and Le Bernardin) with cuisine reflecting the U.S., Mexico, and France, respectively.
[Pictured: A busy scene at Chef Alex Stupex's Empellon in Midtown.]
You may also like: Easiest metros for starting a food truck