Easter is just around the corner, which can only mean one thing…good eats! I've picked 16 beautiful cakes, tarts, crisps, and sweets from the Slow Living Kitchen and friends for Sunday dinner. These easter desserts are simple, so you won't have difficulty satisfying your sweet tooth. I can't wait for you to try these gorgeous desserts, perfect for an Easter brunch or treat any time of the year.
Plum Galette with Almond and Sumac
This plum galette is a perfect, no-fuss dessert recipe that you can make for dinner parties and special occasions. The crust is flaky, and the sumac-almond topping adds a savory note to balance out the sweetness of the plums. Get This Recipe
Best Ever! Coconut Macaroons
These Coconut Macaroons are perfect for Easter, Passover or any day of the year if you are a coconut lover. Get This Recipe
Paska (Ukrainian Easter Bread)
Paska or Kulich is a traditional Easter bread that is very popular in Eastern European countries. Get This Recipe
Habichuelas con Dulce (Sweet Cream of Beans)
Have you ever had habichuelas con dulce? Well, be prepared to be pleasantly surprised by this amazing Dominican sweet cream of beans. This is a strange combination of ingredients for a dessert, but we Dominicans absolutely love this Lenten tradition! Get This Recipe
Flourless Chocolate Cake
This Flourless Chocolate Cake is gluten-free and perfect for Passover, Easter or any time of year. Get This Recipe
Simnel Cake (British Easter Fruit Cake)
Surprisingly easy to make, loaded with dried fruits and almond paste, this mouthwatering Simnel Cake will become a beautiful addition to your Easter table. This is a decadent treat for any occasion! Get This Recipe
Gluten-Free Rice Krispies Treats
These really are The Best Rice Krispies Treats. They are creamy, gooey, and the perfect amount of sweet and crunchy. Master this easy recipe, and you will use it over and over. Get This Recipe
Tarte au Sucre (sugar pie)
Tarte au sucre (sugar pie) is a classic French Canadian dessert staple, and it's easy to see why. It's so delicious, and the brown sugar develops a sweet, caramelized, and complex flavor (it really reminds me of the topping on crème brulee). Get This Recipe
Gluten-Free Lemon Blueberry Cake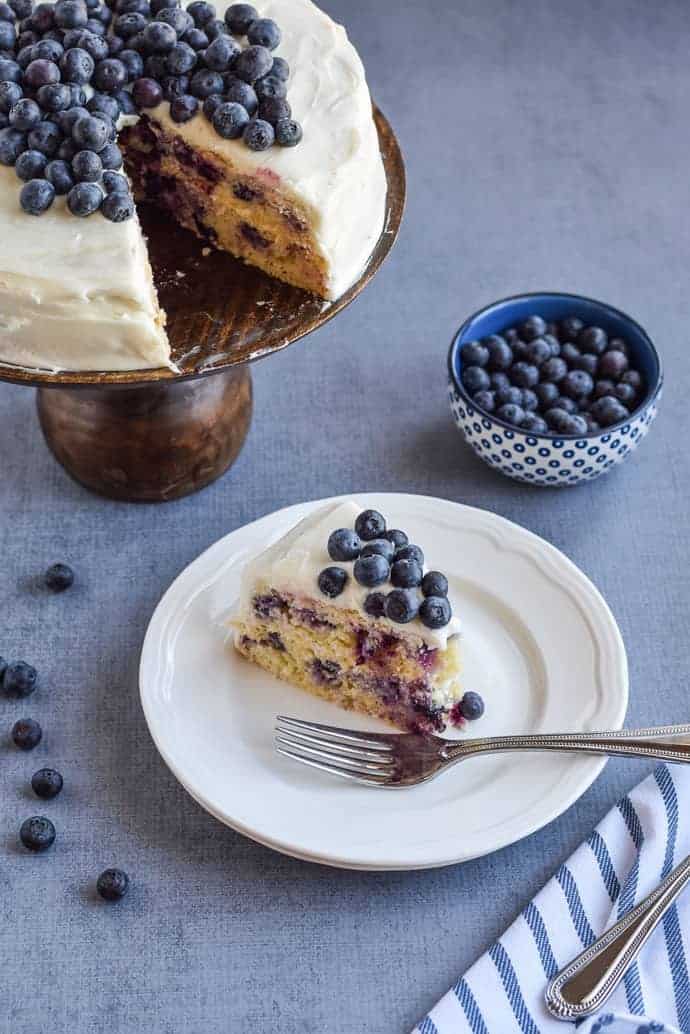 This Lemon Blueberry Cake is a deliciously light and subtly sweet treat with juicy blueberries in every bite. Coated with sumptuous cream cheese frosting, this cake is moist, soft, and perfect for holidays, weekends, or just because. Get This Recipe
Lemon Blueberry Poundcake
This Lemon Blueberry Poundcake is an insanely rich buttery poundcake lightly scented with lemon and chock full of fresh summer blueberries. Get This Recipe
Meyer Lemon and Cardamom Tart
Meyer lemon and cardamom. This bright, citrusy tart is insanely delicious and perfect for spring. Get This Recipe
Rustic Blueberry Galette
This rustic blueberry galette recipe is perfect for your next dinner party. The dough holds just the right amount of blueberries, and the orange zest in the filling adds a touch of brightness. Get This Recipe
Creamy Vegan Panna Cotta
Making this vegan Italian dessert requires little effort but delivers a stunning result. This vegan panna cotta is not only creamy but velvety. It is a silky smooth cooked cream that melts in your mouth. If you find panna cotta with agar-agar stiff and too firm, you will love this recipe. Get This Recipe
Mousse au Chocolate
Homemade chocolate pudding is the perfect dessert for a dinner party. It's rich, creamy, and decadent—but most chocolate pudding is loaded with fat and sugar. This Mousse au Chocolat recipe uses dark chocolate and is satisfyingly creamy. Get This Recipe
Plum Crumble with Walnut Oat Topping
You can't go wrong with a crumble. No kneading, no shaping, no decorating. This Simple Plum Crumble with Crunchy Walnut and Oat Topping is one of the easiest dessert recipes. Enjoy! Get This Recipe
Old-Fashioned Carrot Cake (with pineapple)
This old-fashioned carrot cake recipe with pineapple and cream cheese frosting is three layers of moist, rich deliciousness. Get This Recipe
The Slow Living Guide to Seasonal Fruits and Vegetables
Looking for a breakdown of your favorite seasonal foods by color, season, and more? This list of fruits and vegetables is a great resource!
Learn More: The Slow Living Guide to Seasonal Fruits and Vegetables
Egg Prices Got You Down? Here are 20 Substitutes to Keep You Baking
Having a hard time getting eggs? What's a baker to do? Luckily, there are options. Many alternative ingredients can be used in place of eggs in recipes—with varying degrees of success—and believe it or not, some may taste better than the real thing.
Get these 20 Substitutes to Keep Your Baking Going
How to Cook Rhubarb and Enjoy this delicious Spring Treat
Spring has sprung, and I'm cooking with rhubarb! When spring comes and the rhubarb returns to the markets, I can't help but feel it's a harbinger of summer. If you've been intimidated by rhubarb's tart, sweet flavors, here are some ways to cook and enjoy it.
Learn More: How to Cook Rhubarb